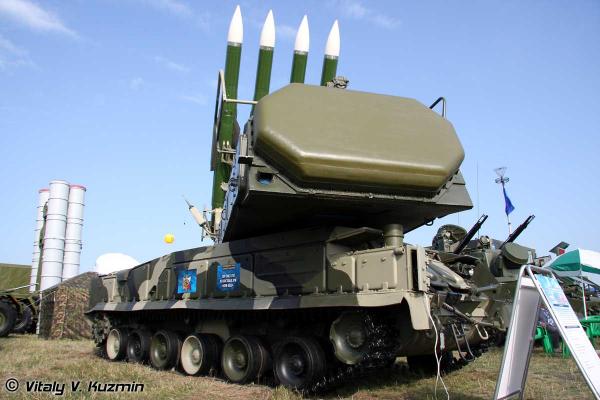 The multifunctional 9K317 "Buk-M2" medium range highly mobile anti-aircraft missile system (SAM) is designed to engage tactical and strategic aircraft, cruise missiles, helicopters (including hovering) and other aerodynamic aircraft in the full range of their practical application in the conditions of intensive radio-electronic and fire counteraction of the enemy, as well as to combat tactical ballistic, aviation missiles and other elements of high-precision weaponry in flight, and to defeat surface and ground missiles. Buk-M2" SAM system can be used for air defense of troops (military facilities), in various forms of combat operations, administrative and industrial facilities and territories of the country.
The main developer of the complex is the V.V. Research Institute of Instrument Engineering. Tikhomirov Research Institute of Instrument Engineering (Chief Designer - E.A. Pigin). The 9K317 air defense system "Buk-M2" was intended to replace the air defense systems "Cube" and "Buk" of previous generations and was adopted in the early 90s. However, the difficult economic situation in the country made it impossible to deploy its serial production. In order to save money, as an intermediate variant, the developers proposed a variant of modernization of complex 9K37 "Buk-M1" with the use of new missile 9M317 "Buk-M2". This intermediate variant was designated as "Buk-M1-2".
The works on improvement of "Buk-M2" complex continued in 2008 as well.  The Ulyanovsk Mechanical Plant (UMZ) started serial production of the modern version of the 9K317 "Buk-M2" complex, which began to arrive to the troops.
At the same time, taking into account the requirements of foreign customers, an export version of "Buk-M2E" - "Ural" was developed. For the first time the export variant was presented at the MAKS-2007 exhibition. It was reported that a contract was concluded with Syria for the supply of Buk-M2E SAM systems.
At the MAKS-2011 aerospace show, the 9K317E Buk-M2E complex was presented, with combat vehicles on wheeled landing gear MZKT-6922 (see photo1, photo2, photo3, photo4).
NATO code is SA-17 "Grizzly".
Composition:
Composition of complex 9K317 "Buk-M2":
military means

anti-aircraft guided missiles 9M317 (see photo),
Self-propelled fires (SPS) 9A317 and 9A318 (towed),
starter charging units (ROM) 9A316 and 9A320;

controls

command post 9C510,
radar target detection station 9C18M1-3,
9C36 Radar Lights and Guidance Station (LLRS).
In complex 9K317 the use of fire sections of two types is provided:
up to 4 sections consisting of 1 JMA and 1 ROM, ensuring simultaneous firing of up to 4 targets (terrain height up to 2m);
up to 2 sections as a part of 1 on-load tap-changer 9C36 and 2 ROM, providing simultaneous firing to 4 targets (terrain height up to 20m).
Ready time from the march: Section 1 - 5 min; Section 2 - 10-15 min. It takes only 20 seconds to change positions with equipment on.
Anti-aircraft guided missile 9M317.  The 9M317 missile has an extended range up to 45-50 km in range and up to 25 km in height and parameter, as well as a large nomenclature of targets.  It provides for the use of an inertial-corrected control system with the new 9E420 semi-active Doppler radar (see photo). Battle unit: rod, weight - 70 kg, radius of target acquisition area - 17 m. Flight speed - up to 1230 m/s, overload - up to 24 g. The mass of the missile is 715 kg. Wingspan - 860 mm. The engine is a two-mode RDTT. The rocket has a high level of reliability, fully assembled and equipped with a rocket does not require checks and settings during the entire period of operation - 10 years.
Anti-aircraft guided missile 9M317 is used to complete the BUK-M1-2 and BUK-M2E air defense systems and is designed to destroy modern and advanced maneuvering aircraft of tactical and strategic aviation, helicopter fire support, including hovering, tactical ballistic, cruise and aviation missiles, as well as surface and ground radio-contrast targets. Can be mounted on wheeled or tracked landing gear.
The 9M317 missile is delivered for operation in a fiberglass transport container, fully prepared for combat use, and does not require inspection of on-board equipment during the entire set service life. The missile is octaclimatically designed and can be operated and used for combat purposes at any time of the year and day after exposure to atmospheric precipitation at ambient air temperature from minus 50°С to plus 50°С, relative humidity 98% at plus 35°С.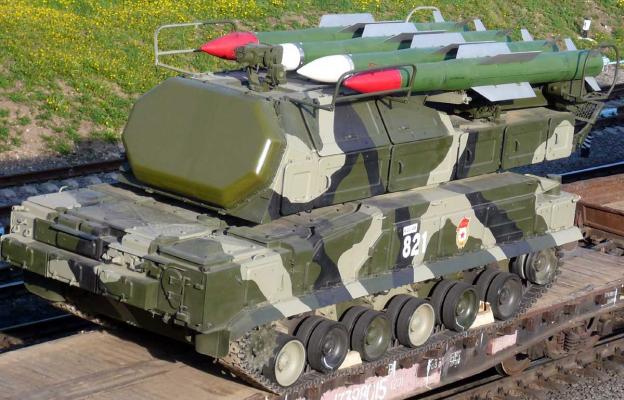 The 9A317 self-propelled fire engine (see photo) is made on the GM-569 tracked chassis. In the course of combat work the JMA carries out detection, identification, auto tracking and target type recognition, development of the flight task, the solution of the launch task, the launch of the missile, target illumination and transfer of radio-correction commands to the missile, evaluation of the firing results. The JMA can fire targets as part of an anti-aircraft missile system at target designation from the command post, or independently in a predetermined sector of responsibility.
Radar station JMA 9A317, in contrast to previous versions of the complex, is based on a phased antenna array with electronic beam scanning.  Target detection area: azimuth - ±45 °, angle - 70 °, range - 120 km (EPR = 1-2 m2, height - 3 km), 18-20 km (EPR = 1-2 m2, height - 10-15 m). Target tracking zone: Azimuth - ±60 °, the angle of the place - from -5 to +85 °. The number of detectable targets - 10. Number of fired targets - 4.  SOU 9A317 is equipped with an optoelectronic system based on sub-matrix thermal imaging and CCD TV channels, which provides an opportunity for day and night work and significantly increases the noise immunity and survivability of air defense systems. Number of rockets on the unit - 4. Reaction time - 5 sec. Ready time after position change - 20 sec. Weight - 35 tons. Dimensions - 8x3,3x3,8 m. Crew - 4 people.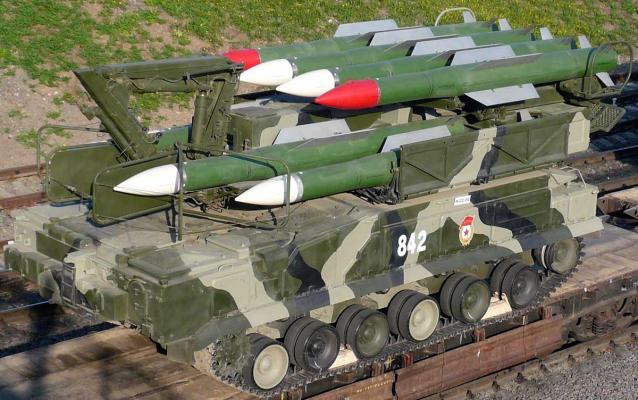 The 9A316 charging unit is made on the GM-577 tracked chassis, towed 9A320 - on the wheeled semitrailer with the KrAZ tractor (road train 9001)... Number of rockets: on launching supports - 4, on transport supports - 4. Self-charging time - 15 min. JMA charging time - 13 min. Carrying capacity of the crane - 1000 kg. Weight - 38/35 t. Dimensions - 8x3,3x3,8 m. Crew - 4 people.
Command post 9C510 (see photo). Chassis - tracked GM-579 / wheeled on a semi-trailer with the KrAZ tractor (road train 9001). The number of accompanied tracks is up to 60 (50-80). Quantity of issued target designations - 16-36. Quantity of controlled sections - up to 6. Reaction time - 2 p. Weight - 30/25 tons. Dimensions - 8x3,3x3,8 m. Crew - 6 people.
The radar for target illumination and guidance of 9C36 missiles (see photo1, photo2, photo3) with up to 22m antenna post provides hitting targets flying at low and extremely low altitudes in forested and rugged terrain. Antenna type - phased array with electronic scanning. The station is placed on a tracked chassis or on a wheeled semitrailer with the KrAZ tractor (road train 9001). Target detection area: azimuth - ±45°, angle - 70°, range - 120 km (EPR = 1-2m2, height - 3 km), 30-35 km (EPR = 1-2m2, height - 10-15m). Target tracking zone: azimuth - ±60 °, the angle of the place - from -5 to +85 °. Number of detectable targets - 10. Number of fired targets - 4. Wind speed - up to 30 m/s. Weight on the tracked chassis - 36 t, on the wheel - 30 t. Dimensions - 8x3,3x3,8 m. Crew - 4 people.
Target detection radar 9C18M1-3 (see photo1, photo2, photo3, photo4, photo5). The three-axis 9С18М1-3 centimetre range coherent-pulse radar with electronic beam scanning in the vertical plane is intended for scanning airspace with subsequent data transmission (via a telescode line) for processing to the 9С510 command post. The radar is mounted on GM-567M tracked chassis. The antenna type is a phased waveguide slot lattice, scanning by azimuth - mechanically, at the angle of the place - electronically. Target detection zone: Azimuth - 360°, angle of place - 50°, range - 160 km (EPR = 1-2m2). View period - 4.5-6 sec. The station is automatically protected from interferences by means of instantaneous tuning of frequency pulses and blocking of range intervals. The radar is protected against ground and underlying surface glare or other passive interference by compensating for losses in direction, wind speed and selectivity of real targets. The total weight of the radar is 30 t. Combat calculation is 3 persons. The time of transfer from a camping position to combat and back - no more than 5 minutes. Dimensions - 8x3,3x3,8 m.
As compared to the basic model, the Buk-M2E SAM system was additionally upgraded in the following areas:
Modern specialized digital computing machines (DCC) have been introduced into the combat facilities of the complex, which, due to their high performance and memory capacity, ensure not only the solution of combat tasks, but also the functioning of modes of training and preparation of crews of the complex;
the tele-optical visier (VIS) has been replaced by a tele-thermal system providing detection, capture and automatic tracking of targets in passive mode both in night and in difficult weather conditions;
the system of documentation of the complex operation was replaced by the Integrated (built-in) system of objective control (ISOC) based on modern computer technologies;
signal processing and indication equipment was transferred to processor processing with information output on liquid crystal monitors;
communication facilities were replaced by modern digital radio stations providing reception and transmission of both speech information and coded target designation and target distribution data;
operator workplaces with indicators based on electron-beam tubes (CRT) have been replaced by automated workplaces.
Complex 9K317 can be operated in different climatic zones, for this purpose the machines are equipped with air conditioners. The complex can be transported without speed and distance limits by rail, air and water transport.
Characteristics:
Defeat zone:
F-15 type aircraft
            - by distance, km
            - by height, km
Lance type TBR
            - by distance, km
            - by height, km
ALCM type CR
            - at an altitude of 30 m, km.
            - at an altitude of 6000m, km.
HARM type PRR
            - by distance, km
            - by height, km
surface targets, km
radar-contrast ground targets, km

3-50
0.01-25

15-20
2-16

20
26

up to 20
0.1-15
3-25km
10-15km

Probability of hitting one missile:
            - of an F-15 non-automatic aircraft.
            - Lance type TBR
            - ALCM type CR
            - HARM type PRR
            - helicopter

0.9-0.95
0.6-0.7
0.7-0.8
0.5-0.7
0.7-0.8
Number of simultaneously fired targets
up to 24
Maximum speed of targets to be hit, m/s :
            - oncoming
            - receding
1100
300-400
Rate of fire, s
4
The reaction time, s
10
Deployment/cooling time, min.
5
Total Warfare Resource
20 years
ZUR 9M317
Product length, m
5,55
Product weight, kg
715
Weight of combat unit, kg
70
Maximum diameter, m
0,4
Wingspan, m
0,86
Wheelspan, m
0,86
Possible application area, km
between 3 and 50
Maximum flight speed, m/s
1230
Maximum overload of targets to be hit, g
12
Operation time of on-board equipment, s
65
Ready time to launch, s
14
Maneuverability, g
24
Height of targets to be hit
between 15 m and 25 km
Set service life, years
10
Testing:
As of 01.01.1950, the factory batch of 230 shells was completed and sent to the Pavlograd test site.
In November 1949, pre-factory tests of 34 shells were carried out together with the fuse B-377 during which cases of missiles were revealed.
Special tests carried out to determine the causes of deficits showed that the most probable cause was an increased release of unburned reactive charge particles at the end of the active section of the trajectory.
In order to eliminate this phenomenon, in December 1949 a bench-top refinement of the engine was started with regard to aperture enhancement and ensuring that the powder charge was fixed in the chamber. After the end of the bench work and experimental firing for checking the reinforced aperture, the factory batch of projectiles was to be equipped with modified apertures on site and presented for factory tests in February 1950.
Other languages: