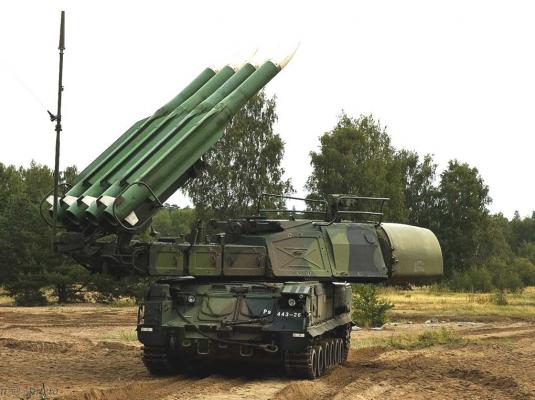 In accordance with the Decree of the CPSU Central Committee and the USSR CM of November 30, 1979 modernization of the "Buk" SAM system was carried out in order to increase its combat capabilities, protection of its electronic means from interference and anti-radar missiles.
The "Buk-M1" complex provides for effective organizational and technical measures to protect it from anti-radar missiles. The "Buk-M1" complex combat vehicles are interchangeable with the same type of "Buk" SAMs without their modifications, the regular organization of combat formations and technical units is similar to the "Buk" complex.
As a result of tests carried out from February to December 1982 under the leadership of a commission headed by B.M.Gusev at the Emba firing range (chief - V.V.V.). Zubarev), it was found that the upgraded system "Buk-M1" compared with the "Buk" SAM system, provides a large area of aircraft destruction, can shoot down cruise missiles ALCM with a probability of hitting one SAM not lower than 0.4, Hugh Cobra helicopters - with a probability of 0.6-0.7, as well as hovering helicopters - with a probability of 0.3-0.4 at ranges from 3.5 to 6-10 km.
The "Buk-M1" complex was adopted for service with the Air Defense Forces of the Army in 1983 and its serial production was established in cooperation with industrial enterprises, which had previously produced the "Buk" SAM system.
The complexes of the "Buk" family were offered for deliveries abroad under the name "Gang". After the collapse of the USSR the "Beech" SAMs in various modifications were supplied to Ukraine and Byelorussia besides Russia. The Buk-M1 antiaircraft missile system was exported only to Finland. The sea version of the "Hurricane" ("Style") complex has been delivered to China on two "Modern" class destroyers since 2000.
During the "Defense 92" exercise of the "Buk" family of SAMs, successful target shooting was conducted on the basis of R-17, "Zvezda" ballistic missiles and Smerch missiles.
Composition:
Buk-M1" SAM system includes the following combat vehicles:
ZUR 9M38M1;
Command post 9C470M1;
Dome M1" detection and target designation station 9C18M1;
9A310M1 self-propelled fire station;
9A310M1" Self-propelled Fire Station; 9A39" Starting and Charging Station.
Self-propelled fire unit 9A310M1, compared to the installation of 9A310, provides detection and capture of the target at long ranges (25-30%), as well as the recognition of aircraft, ballistic missiles and helicopters with a probability of not less than 0.6.
The 9A310M1 uses 72 litre illumination frequencies (instead of 36), which provides enhanced protection against mutual and deliberate interference. Recognized three classes of targets - aircraft, ballistic missiles, helicopters.
The command post 9C470M1 as compared to the control post 9C470 of the complex "Buk" provides simultaneous reception of information from its own detection and target designation station and about six targets from the air defense control post of motorized rifle (tank) division or from the air defense control post of the army, as well as comprehensive training of all calculations, combat vehicles for air defense.
The complex uses a more advanced detection and target designation station 9C18M1 ("Dome M1"), which has a flat angular AF and self-propelled tracked chassis GM-567M, the same type as the control, self-propelled fire and charging unit.
The length of the detection and target designation station is 9.59 m, width - 3.25 m, height - 3.25 m (8.02 m in working position), weight - 35 tons.
The technological equipment of the complex includes:
9B95M1E - machine of automated control and testing mobile station on ZIL-131 and trailer;
9B883, 9B884, 9B894 - repair and maintenance machines at Ural-43203-1012;
9B881E - Ural-43203-1012 maintenance machine;
9T229 - transport vehicle for 8 ZUR (or six containers with ZUR) on KrAZ-255B;
9T31M (9T31M1) - truck crane;
MTO-ATG-M1 - maintenance workshop on ZIL-131.
Characteristics:
Defeat zone, km:
            - at a distance
            - in height
            - as defined in
3,32..35
0,015..20-22
till 22
Probability of hitting the target of one SSD
            - like a fighter jet
            - helicopter type
            - cruise missile type
0,8..0,95
0,3..0,6
0,4..0,6
Maximum target speed m/s
800
Response time, s:
22
ZUR flight speed, m/s
850
Mass of the rocket, kg
685
Weight of combat unit, kg
70
Target channeling
2
Zurich canalization
3
Deployment time (closures), mines
5
The number of SSDs on a combat vehicle
4
Testing:
Joint testing of the complex "Buk" in the full set of funds were carried out from November 1977 to March 1979 at the Emba range (range manager V.V. Zubarev) under the guidance of a commission headed by Yu.
The command post of the complex received from the control of the anti-aircraft missile 6pigadas "Buk" (ACS "Polyana-D4") and from the detection and target designation station information about the air situation, processed it and issued to the self-propelled firing systems, which carried out search and seizure of targets on auto tracking. When a target entered the area of engagement, the SUR was launched. Missiles were guided by the method of proportional navigation, which provides high accuracy of pointing at the target. When approaching the target, the CNS issued a command to the radio detonator for close approach. When approaching the target at a distance of 17 m on command detonated combat unit. When the radio detonator failed to operate, the ZUR self-destructed. When the target was not hit, the second SAM was launched.
Compared to the previous systems of similar purpose ("Cube-M3" and "Cube-M4" SAMs), the "Buk" complex had higher combat and operational characteristics and provided:
simultaneous firing of up to six targets by the division, and, if necessary, the performance of up to six independent combat tasks with self-propelled guns;
greater reliability in detecting targets by providing a joint space overview by a detection and target designation station and six self-propelled guns;
increased noise immunity due to the use of onboard CNS computer and a special type of backlighting signal;
greater target acquisition efficiency due to the increased power of the combat unit of the SAM system.
Based on the results of firing tests and simulations, it was determined that the Buk SAM system provides for firing of non-manoeuvring targets flying at a speed of up to 800 m/s at altitudes from 25 m to 18 km, at ranges from 3 to 25 km (up to 30 km at target speed of up to 300 m/s) at a heading parameter of up to 18 km with a probability of hitting one SAM equal to 0.7-0.8. When shooting at targets maneuvering with overloads up to 8 units, the probability of engagement decreased to 0.6.
Buk" SAMs were organizationally reduced to anti-aircraft missile brigades, which included: Control (a point of combat control of the brigade from the ASU "Polyana-D4"), four anti-aircraft missile division with its own control 9C470, a detection and target designation station 9C18, communications platoon and three anti-aircraft missile batteries with two self-propelled firing 9A310 and one 9A39 launcher in each, as well as maintenance and service divisions.
The Buk anti-aircraft missile brigade was to be operated from the army's air defense command.
The "Buk" complex was adopted for service with the Army Air Defense Forces in 1980.
Sources:
Зенитные ракетные комплексы ПВО СВ. Техника и вооружения №5-6.99
"Невский Бастион" N1 1997, выпуск 2
Other languages: