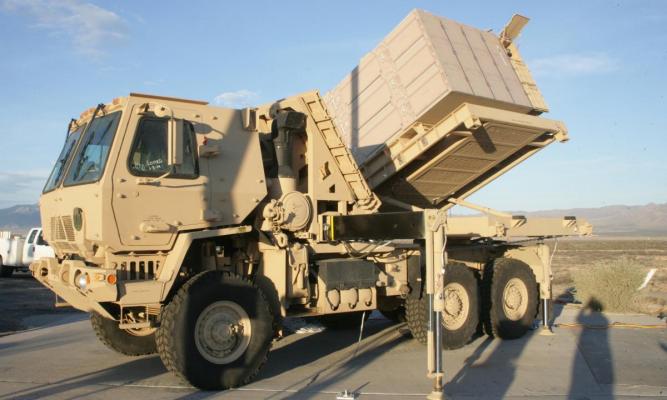 The MML (Multi-Mission Launcher) is a new generation of near-range ground-based missile defense/anti-aircraft defence (air defense/anti-missile defense) systems.
The MML is built on the principle of open architecture. Depending on the means of destruction it can be used to destroy unmanned aerial vehicles, cruise missiles, unguided rockets and artillery shells, mortars.  As part of an echelonized air defense / missile defense system, the MML launcher is capable of providing all-round defense during a massive raid using various means of artillery and air attack.
The development of the MML is the result of the IFPC-2I (Indirect Fire Protection Capability Increment 2) program aimed at developing means of protecting troops from closed firing positions. It was performed at the U.S. Army AMRDEC (Aviation And Missile Research, Development and Engineering Center) using the experience gained from the unification of HIMARS and Avenger SAM systems.
Composition:
The chassis of a military medium-duty truck is used as a running base for the launcher. The structure of the MML launcher includes a package of fifteen launch containers, each of which can be equipped with one or more missiles. The package of containers is mounted on a special frame located on a swivel base. It is possible to point the package at the angle of space and azimuth. When deployed in combat position, the combat vehicle is mounted on hydraulic supports.
Equipment of radio command channel, providing transmission of correction commands on board the missile, is placed on a special trailer towed behind the installation (see photo). The power supply of the combat vehicle in combat position is provided by a standard army generator of 60 kW.
The MML unit is designed for use as part of the air defense / missile defense systems and is integrated into the automated control system IBCS, which was developed by Northrop Grumman.  IBS includes a command post, a high-speed bus to exchange tactical information with a single interface, network devices. The IBS system can receive and process information from a variety of detection devices, including multifunction radar (radar) AN/MPQ-64F2 Sentinel-3D, AN/MPQ-53 (MIM-104A Patriot).
The Sentinel-3D radar (see photo1, photo2) of X-band is developed on the basis of the AN/TPQ-36A Firefinder artillery reconnaissance radar and has enhanced energy characteristics, which allows detecting small artillery shells at ranges of up to 15-18 km, accompanying them on the passage, as well as issuing target designation for available intercepting means. The presence of passive phased array antenna provides escorting of up to 60 air targets. The instrumental range is about 75 km, target detection range with 2m2 EPR - up to 50 km, cruise missile up to 30 km.
The MML is equipped with the following types of missile ammunition:
The AGM-114L Longbow Hellfire anti-tank missile, when used as part of the MML, provides the ability to engage ground targets as well as helicopters and unmanned aircraft.
The MHTK was developed by Lockheed Martin Corporation as part of a program to develop small-size kinetic interceptor missiles. It is 610 mm long, 40 mm in diameter and has a launch weight of 2.2 kg. Its effective range for intercepting missiles, artillery and mortar shells is 3 km or more. The compact design of the MHTK allows for placement of several missiles in one launch container of the MML unit.
It is assumed that the missile will be equipped with one of three different guidance systems. It is currently equipped with a semi-active homing radar head. At the same time, work is being done to assess the possibility of using a semi-active laser guidance system or a miniature video camera.
Characteristics:
Fighting vehicle 9A53
 Chassis type
MZKT-7930
 Wheel formula
 8x8
 Mass, t.
             container-free
             with Hurricane containers
             with Smerch containers
 31,54
 42,20
 43,60
 Length in camping position, m:
             with Hurricane containers.
             with Smerch containers
 12,67
 13,00
 Width in camping position, m:
             with Hurricane containers.
             with Smerch containers
 6,09
 7,44
Height, m
 3,35
Speed of travel, km/h
 70
Time to transfer from marching to combat position, s
 20
Leaving time for OPs, s
 45
Power reserve, km
 1000
Calculation, man.
 3
Number of containers to be installed, pcs.
 2
Time of firing, s:
            220-mm Hurricane.
            300 mm "Smerch" products
 14-60
 22-40
Transport-charging machine 9T249
Chassis type
MZKT-7930
Wheel formula
 8 х 8
Gross mass, kg
 46000
Dimensions in camping position, m:
             length
             width
             altitude
 14
 3,14
 3,55
Maximum travel speed, km/h
 70
Power reserve, km
 1000
Calculation, man.
 3
Number of containers transported
 2
Crane load capacity, kg
 6300
Testing:
27.10.2014 Successful launch of three interceptor missiles from the MML demonstration version.
15.03.2015 Demonstration model of the installation provided launch of three different types of interceptor missiles in order to test the design solutions. It was reported that one of the missiles successfully destroyed an air target, while the other two successfully passed flight tests.
23.03.2015 Three guided missiles of different types were launched from a test rig. The AIM-9X Sidewinder successfully intercepted an unmanned aerial vehicle. The other two types of missiles were a Low Cost Active Seeker and a Shock-Kinetic Interceptor.
26.08.2015 Rocket AIM-9X block II, launched from the MML launcher, hit an aerodynamic target at an altitude of 1500m. The missile's homing head captured the target before it was launched.
03.09.2015 The first prototype of the launcher was delivered for testing as part of the stage of determining the technological appearance and ensuring the reduction of various risks.
23.03.2016 Successful launch of the guided missile FIM-92 Stinger from the test facility (see photo). The test was conducted at the Eglin test site.
25.03.2016 Launch of the guided missile Hellfire from the MML prototype. The target designation was provided by the Sentinel radar. The transfer of control commands aboard the missile was performed by the radio command system of the MML installation.
30.03.2016 Successful launch of the AIM-9X Sidewinder guided missile from the MML prototype vehicle at the White Sands Missile Range (White Sands).
04.04.2016 Lockheed Martin announced the successful test of the MHTK interceptor at the White Sands test site. Launched from an MML rig, the interceptor's compact size allows it to accommodate multiple missiles in a single launch container.
20.04.2016 The Tamir guided missile was launched from the MML prototype combat vehicle - an unmanned aircraft target was destroyed. Successful launches of guided missiles Hellfire, AIM-9X Sidewinder and MHTK.
Other languages: