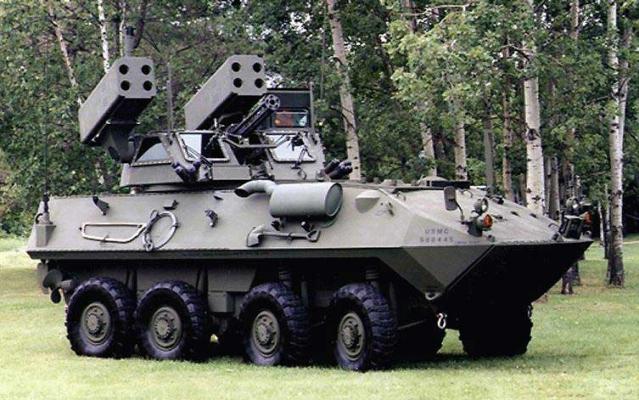 The LAV-AD (Light Armored Vehicle - Air Defence) short-range anti-aircraft missile and artillery system developed by General Dynamics Armaments Systems (USA) is designed to engage tactical aircraft, attack helicopters, cruise missiles and unmanned aerial vehicles operating at low and extremely low altitudes with subsonic and supersonic speed at any time of the day at ranges up to 8 km. The complex can also be used to engage ground armoured targets using cannon weapons.
As a means of destruction in the complex used 25mm cannon GAU-12/U "Gatling" and anti-aircraft missile FIM-92 "Stinger" RMP of various modifications. At present, the company "Raytheon" produces modifications of "Stinger" FIM-92D and FIM-92E Block I with a range of up to 8 km. The Lockheed Martin's Gatling Gun with a velocity of 1800 rounds per minute ensures the engagement of air targets at ranges up to 2500m and is effective against helicopters in jump mode, targets with low signature in the infrared range and ground targets.
The complex is designed for the U.S. Marine Corps Command. It was originally intended to be equipped with one container with HYDRA-70 rockets (type), one Stinger SAM system and a 25mm cannon. However, during the development process, it was decided not to install a container with unguided rockets, but instead to install another container with a SAM "Stinger". As the chassis the modernised armoured personnel carrier-amphibian LAV-25 (8x8) made by "Diesel Division" of Canadian branch of company "General Motors", already used in sea infantry has been chosen.
Tests of the complex began in June 1992, production - in 1996. The last 17 systems were adopted for service in January 1999.
Further development of this system was a joint development of "Thales Air Defense" and "General Dynamics Armaments Systems", called "Blaser". It is armed with the Mistral SAM system with a range of 6 km and the Thomson-CSF TRS 2630 radar, which is capable of detecting targets at ranges up to 20 km, including fighters at ranges up to 17 km, hovering helicopters - up to 10 km. The radar is equipped with a phased antenna array and allows for automatic target tracking and identification as "your own". Blaser" complex, in comparison with the prototype, has a smaller ammunition stock of SAMs and projectiles.
Composition: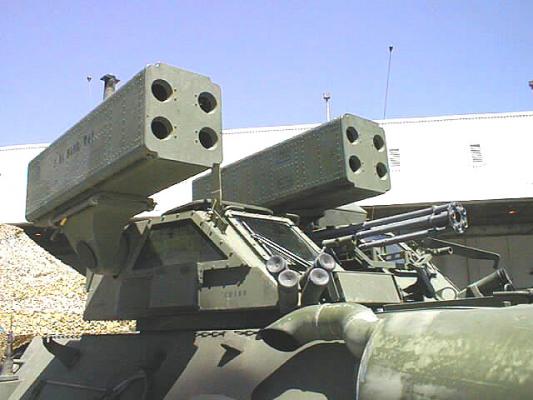 The complex consists of the following main elements:
25mm cannon GAU-12/U "Catling";
8 anti-aircraft guided Stinger missiles in launch containers placed in two bags of four missiles each;
FTS detection systems with a laser rangefinder;
automatic tracking and fire control systems.
The complex is mounted on a controlled gyrostabilized turning platform, which allows firing targets both from the ground and in motion.
Targets can be detected using the FTS (FLIR TV Sight System) developed by Raytheon Systems Company or visually through armored windows on the front and side of the operator's cabin. The FTS system, which combines a TV and a thermal imaging camera, is used to detect targets in day and night conditions. The FTS optical channels are combined with a laser rangefinder (CO2) used to measure the distance to accompanied targets. Range is necessary for determining the moment of starting the LLS and selecting the type of weapon. Calculation of the complex - 2 persons: the commander of the complex and the operator. Each person is capable of independently detecting and escorting targets, as well as selecting the type of weapon to fire targets.
LAV-AD" SAM system uses an anti-aircraft missile FIM-92 "Stinger" RMP (Reprogrammable Microprocessor) of various modifications. The latest versions of this missile FIM-92E Block I and FIM-92E Block II. Missiles FIM-92E Block I is equipped with a dual-band noise-immune homing head (SN) socket-type, operating in infrared and ultraviolet (UV) wavelength ranges, shrapnel and high-explosive warhead weighing 3 kg and have a range of up to 8 km at a speed of M = 2. In 2004, the production of the FIM-92E Block II missile was launched, which is equipped with an all-angle thermal imaging GSN with an IR detector matrix located in the focal plane of the optical system.
In addition to the eight missiles in the launch containers in the operational position, the chassis of the complex has a manual rechargeable 8 SAM ammunition.
The combat vehicle is equipped with satellite navigation system AN/PSN-11, radio communication systems AN/VRC-92 SINCGARS and AN/GRC(V) 231-HF . Each combat vehicle is also equipped with a 7.62 mm machine gun for self-defense and two blocks of four smoke grenades.
The air transport complex is equipped with C-130, C-141, C-5A aircraft and can be carried by CH-53E helicopters on external sling.
Characteristics:
 SAM "LAV-AD"
Maximum range (missiles/gun), km
5.5/2.5
Minimum range (missiles/gun), km
0.2/0
Defeat height, km
0-3.8
Maximum missile speed, M
2.2
Mass of the rocket, kg
10.1
Weight of combat unit, kg
3
The length of the rocket, m
1.52
The diameter of the rocket, m
0.07
Gun caliber, mm
25
Speed, gunshot/min.
1800
Firing sector at the corner of the place, degree.
between -8 and +60
Azimuth firing sector, degree.
360
Max platform rotation speed, rad/s
1
Maximum acceleration of platform rotation, rad/s2
2
Fighting vehicle
Crew, man.
2
Weight together with the chassis, kg
13410
Weight of platform, kg
2676
Ordnance supply
900
ZUR Boeepage
16
Testing:
The first flight test of the XMG-M52C "Lance" rocket with extended range was conducted at White Sands Range on March 6, 1969. The first series of missiles entered the army for military trials in April 1971. The first launch took place in August 1972, and in March 1972 the military trials were fully completed.
In May 1972, the missile system "Lance" was officially recognized as a protocol model of military equipment and was classified as a class "Standard A". However, only a Lance missile with a nuclear warhead was included in this class, as Congress had not yet approved the development of a cluster bomb head unit, which the command of the ground forces considered necessary to have in service.
Immediately after the approval of the missile, the delivery of the Lance missile system to NATO partners and Israel began. Six divisions were formed in Europe. Two of them were in Germany, which could not but bother the USSR Armed Forces group "Center": the flight time of the Lance missile is only about 200 seconds, so there was no way to quickly detect and shoot down the missile. Missiles equipped with non-nuclear head units were delivered to Israel.
There are reports that the Lance missile system was used by U.S. forces during the war in Afghanistan in the late 70's and early 80's.
In the mid-80s, the Lance missile system was withdrawn from service due to the nuclear arms reduction treaty between the USSR and the United States. Currently, the Lance missile is used as a target for anti-missile testing. There is evidence that it is used in the development of the US national missile defense program.
Sources:
Василин Н.Я., Гуринович А.Л. "Зенитные ракетные комплексы" .-Мн.: ООО "Попурри", 2002- 464с.
Карпинский Г.Д. Зенитный ракетно-артиллерийский комплекс LAV AD // Техника и вооружение сухопутных войск капиталистических государств (по данным открытой зарубежной печати). Экспресс-информация. – Выпуск 14(86). – 1987. – С. 5. Со ссылкой на Military Technology. – 1986. – Vol. 10, № 10. – P. 249.
LAV-AD Light Armored Vehicle Air Defense, USA/ Army-Technology
Other languages: