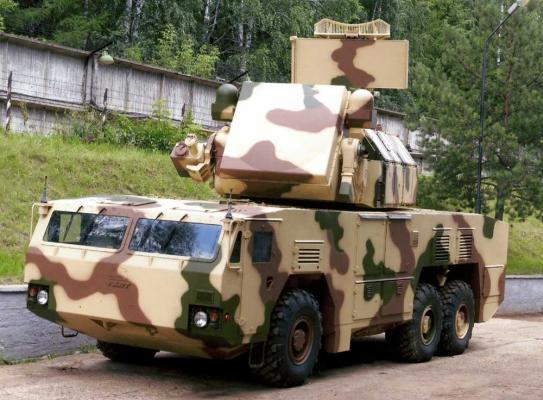 Anti-aircraft missile system (AMS) "Tor-M2E" is designed for air defense of ground forces units during combat operations and in areas of concentration, protection of command posts, communication centers, radio equipment, bridges, airfields, etc. from guided missiles, bombs, aircraft, helicopters, unmanned aerial vehicles and other elements of high-precision weapons.
Tor-M2E" SAM system is a further development of the famous 9K331 "Tor-M1" complex. Compared to its predecessor, the Tor-M2E is notable for its increased effectiveness in repelling massive attacks of modern airborne assault vehicles under conditions of intensive fire and electronic countermeasures. Channel capacity of the Tor-M2E complex on targets has been increased to 4 (2 at Tor-M1), the boundaries of the target area in terms of altitude and parameter have been increased to 10 and 8 km, respectively.
The complex was developed by the Research Electromechanical Institute (Moscow), produced by the Izhevsk Electromechanical Plant "Kupol". All complexes of the Tor family use a single anti-aircraft guided missile (SAM), which was created in IBC "Fakel".
In addition to the basic variant of placement of combat vehicles on the tracked chassis of the Tor-M2E SAM system, several alternatives of this complex are offered. At the MAKS-2007, MAKS-2009 and MAKS-2011 air shows, a version of the system on wheeled chassis MZKT-6922 was demonstrated, which provides for improved performance characteristics on paved roads and improved living conditions. The air defense system in modular version received the designation "Tor-M2KM".
Composition:
The Tor-M2E SAMs are a part of it:
Militants:

Combat vehicle (BM) 9A331MK (on wheeled chassis (see photo1, photo2, photo3) or BM 9A331MU (on tracked chassis);
the 9M334 antiaircraft missile module (SLR) with four 9M331 antiaircraft guided missiles (see description).

Technical means:

Transport and Charging Machine (TZM) 9T244;
transport vehicle 9T245;
maintenance machine (battery MTO) 9B887M2K;
maintenance machine (shelf MTO) 9B887-1M2K;
group set machine ZIP 9F399-1M2K;
a set of rigging equipment 9F116;
simulator for operators of combat vehicles;
maintenance workshop MTO-AG3M1.
In addition to the complex can be supplied mobile unified battery command station (BCP) 9C737MK. The 9S737MK BCP controls group actions of the BM battery and communicates with higher and middle air defense echelons.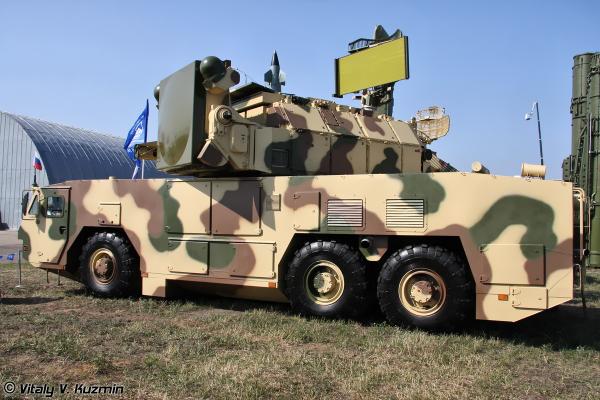 BM 9A331MK/9A331MU is an autonomous combat unit that provides a circular view of the space in a given sector by the angle of position, detection and identification of air targets, air situation analysis, automatic selection of the most dangerous targets for firing, capture, auto tracking of targets, determining the moment of entry into the kill zone, launching missiles, their automatic guidance to targets by radio commands.
Princial distinction "Tor-M2E" from its predecessor - the complex "Tor-M1" is an upgraded target detection station (TOC). SOC "Tor-M2E" is equipped with a new antenna based on slot PHAR, modified software and allows the station to detect targets with a small effective area of scattering (EPR), created using the technology "stealth". At the same time it provides a much higher level of interference immunity under combat conditions, including from modern special interferences of self-coverage. The new computer system has made it possible to expand the possibilities of information processing. The Tor-M2E combat vehicle is equipped with a new all-day electronic and optical detection system (see photo).
The search, detection and identification of air targets may be performed while the vehicle is moving or on the spot, the transition to escorting targets and launching missiles is performed from a short stop. The combat vehicle is capable of performing combat operations in the so-called conveyor mode. In this mode, the firing channel released after the completion of pointing the missile at the target can be immediately used to point the next missile from the ammunition. The presence of the conveyor mode increases the efficiency of the complex in conditions of a massive raid of enemy air attacks.
The SAM system allows the exchange of radar information between two UAVs, which makes it possible to use them in the "link" mode at one cover facility. Link Mode detection radars scan the space in their corner zone, providing information to a neighboring vehicle, thus, the detection zone is significantly extended. In this case, the LM can hit targets in the area of responsibility of any radar. This increases the effectiveness of raid reflections, as well as the ability to detect and engage low-flying targets. Link Mode can also be effective if any LM fails the SOC - the vehicle can continue to operate using information from a nearby LM.
The anti-aircraft missile module (SLR) 9M334 (see photo) is designed to accommodate guided anti-aircraft missiles 9M331 during their storage, transportation and combat use.
The SLR 9M334 is a part of the SLR 9M334:
up to 4 anti-aircraft guided missiles 9M331 (see description) or 9M331D;
an airtight 9Y281 transport and launch container (see description);
2 beams for module assembly, transportation and storage.
SRM 9M334 is a single structure consisting of four transport and launch containers with SSDs installed in them. During operation, the module can contain four, three, two or one missile. The weight of the module with four missiles and beams is 1053 kg. The dimensions of the container without beams are 444x1223x3005 mm. Transport conditions - by all means of transport in bags.
Tor-M2E" SAM system can operate in a single air defense system consisting of three levels: long, medium and short range systems, as well as autonomously. The complex provides almost complete automation of combat work, the crew is reduced to three people.
The anti-aircraft missile battery, as a rule, has a BKP, four BM, two TZM, a ZUR and MTO.
Characteristics:
Maximum horizontal hit range, km
12 (15 for 9М331D)
Minimum horizontal hit range, m:
            - at an altitude of 10m
            - over 100m
1500
not more than1000
Number of simultaneously processed targets
48
Number of simultaneously escorted target trails with their ranking according to hazard level
10
Number of simultaneously fired targets
4
Number of simultaneously guided missiles
8
Maximum target speed, m/s
700
Target Maneuver Overload
10g
A set of ZUR on BM, pcs.
8 in two SLRs
Charging time of BM, min.
18
Time of deployment from camping position to combat, min.
3
Speed BM, km/h:
            - on the highways
            - dirt
up to 80
up to 30
Power reserve on fuel, km (with two hours of equipment operation)
500
Maximum mass BM, t
30
The calculation of BM, man.
3
Climatic operating conditions:
            - temperature, °С
            - humidity at +35°C, %
            - altitude, m
            - wind speed, m/s
±50
98
up to 3000
up to 30
                                          Defeat zone of Tor-M2E air defense systems
Target parameters
Defeat zone
in height, m
at a distance of, m
on the course parameter, m
Speed 300 m/s
10 - 10 000
1000 - 12 000
up to 8000
Speed 600 m/s
10 - 6000
up to 12 000
up to 7000
Speed 420 m/s, firing in the air.
 
1500 - 10 000
1000 - 8000
WTO with EPR over 0.1 sq. m, speed up to 700 m/sec.
50 - 6000
1500 - 7000
up to 6000
Testing:
The Certificate of Combat Activity of the 15 mortar regiment of the 33 minbrigade 2 gv of the Art division of the Russian State Control Committee for the period from 13.07.43 to 20.10.43 states that "since the beginning of combat operations, the regiment has destroyed ... 6 barrel machine guns - 1" (presumably, we are talking about the 6 barrel mortar).
Among the targets, which were found by the soldiers of the 15th mortar order of Alexander Nevsky regiment, was the mortar "d". The description of the targets indicates: PP-690 SP groups as of 05.02.44.
No. of the targets 286; Coordinates x 09500; y 56925; Name of the targets Mortar "d" / rolling; Date of detection 27.01.44; Who is assigned 1/15; Who was detected 2/12; Chief of Staff Captain Tabunshchikov
The Report on the enemy artillery activity in the area of the 15 mortar regiment of the 33 min brigade from 25.01.44 to 24.02.44 Perekop. indicates "the enemy, consisting of 71 demining battalions, 122 pp, 121 pp 50 pp, and a battalion of traitors of the Motherland occupies the defense at the turn: exclusive collective farm named after Budyonny, estate 200 m southeast of the brick factory, exclusive height 19.6. Barrows with an exception of 0.8 d Shchemilovka.... 2. The enemy's artillery is mainly concentrated: ...up to two 119 mm batteries and a mini "d" battery in the area of 17.3" height.
Vitaly Zakrutkin's book "Caucasian notes 1942-1943" contains the following data: "Together with large motorized units, along the Don and Kuban roads there were separate "shock" and assault regiments, detachments of automatic rifles, sapper, technical, bicycle battalions, airborne groups, security units, companies of field gendarmerie, all kinds of "volunteer legions", assembled from reputed adventurers of different nations; the infinite flow of heavy and light cannons, the divisions of six-barreled mortars. ».
V. Zakrutkin's book "Caucasian notes 1942-1943" also contains data on the seizure of 4 six-barreled mortars by Soviet troops on the outskirts of the town of Ordzhonikidze (now Vladikavkaz).
Other languages: