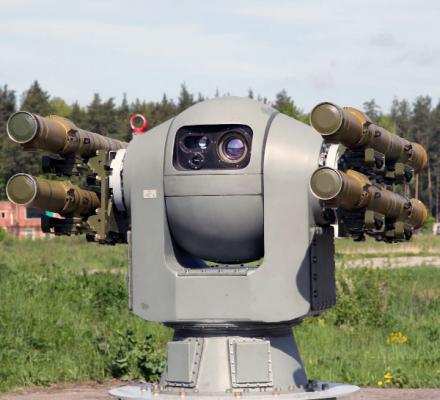 Turret unit 3M-47 "Gibka" is designed to provide guidance, remote automated launch of missiles such as "Needle" and / or anti-tank guided missiles (UR) type 9M120-1 to protect surface ships with displacement of 200t and above in the zone of ultra-short range attacks from anti-ship missiles, aircraft and helicopters in the natural (background) and artificial interference.
In modifications with the guided weapons system (LWF) for the 9M120-1 type SDO, the turret unit solves the tasks of engaging air low-flying targets with speeds up to 400 m/s, surface low-tonnage targets, ground (coastal) moving and stationary targets, modern and advanced tanks, other armored (APC, BMP) and small targets (such as DOT, DZOT), fortifications, manpower in shelters and in open areas.
Installation 3M-47 for the launch of needle-type missiles was developed in 2004-2005 by the Maritime Research Institute of Radioelectronics "Altair" (now Scientific and Research Center "Research Institute of Radioelectronics "Altair" PJSC "NPO Almaz"). The tests were carried out from 2005 to 2006 on a small artillery ship of project 21630 "Astrakhan". The ship is equipped with one 3M-47 "Gibka" unit (see photo1, photo2), which has 2 launching modules "Sagittarius" (see photo) of Shipyard development (Kolomna). Each launch module is equipped with two needle-type missiles. The Gibka launcher, mounted on the Astrakhan IAC, was designed and manufactured by the Electromashina Research and Production Association of Chelyabinsk.
The version of the 3M-47 unit developed by RATEP (see photo) was first presented at the IMDS-2005 Naval Show (Saint-Petersburg).
The modification for the 9M120-1 type SDM was developed and is produced by JSC NPK KBM (Kolomna).
The CUV including turret unit 3M-47 "Gibka" can be installed on surface ships, in towers and combat compartments of various combat vehicles, tractors and vehicles, including foreign-made.
The advertising passport for small missile ship of project 21632 "Tornado" (approved on 26.04.2008) indicates the possibility of placing the 3M-47 system as one of the variants of anti-aircraft weapons.
The 3M-47 "Gibka" system was adopted for service of the RF Navy in 2006.
Composition:
The CUV with 3M47 "Flexible" installation has the following modifications:
c 4 "Needle" type SSDs (see photo)
with 8 needle-type SSDs (see photo).
with 4 type 9M120-1 UR (see photo) (cipher "Gibka-M6");
c 2 Type 9M120-1 URs and 4 Needle type ZURs (cipher "Gibka-M5").
Composition:
Ship turret launcher (CTPU)
Power and Control Appliance (PEU)
Automated Operator Workplace (AWP)
Mathematical software (IGOs)
Set of control equipment and starting modules (CAM) and MUP or CHS (depending on modification)
Test and verification equipment kit (Test and verification equipment)
ZIP kit
Packaging set
Set of technical, delivery and operating documentation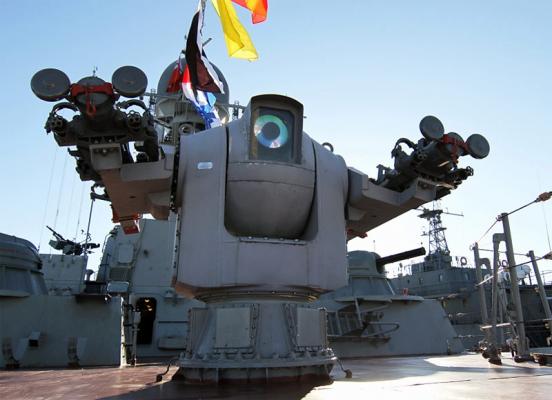 KTPU provides simultaneous firing of one target by one or more missiles in succession, as well as salvo firing of two needle-type missiles at a target.
The Gibka can be used independently and in various combinations, including long-range anti-aircraft missile systems and artillery systems, forming a reliable air defense system.
According to the developers, for example, the integration of the 3M-47 unit into the Stil-1 air defense system increases the depth of the total kill zone and increases the fire performance of the integrated air defense system by reducing the range to the close border. Due to obtaining timely and accurate target designation from the means of SAM "Style-1" decreases the reaction time of the "Flex". Concentration and processing of all data on targets in one automatic control unit ensures that all attacking targets are fired on and defeated.
As sources of preliminary target designation the CUV with KTPU "Gibka" can use information from ship-wide radars such as "Furke", "Fregat", "Positive".
Characteristics:
 Number of simultaneously fired targets, pcs.
1
 Target detection range by ARM operator, km
television channel
thermal imaging channel
           - fighter aircraft
18-20
20-25
           - PCR
5-7
5-7
           - tank
6-8
5-6
           - displacement ship of 400t and above
18-20
18-20
 Guidance sector, deg:
           - course angle
±160
           - at the corner of the Needle rocket site.
between -10 and +65
           - at the corner of the space for missiles type 9M120-1
between -10 and +25
 CTU angular bypass speed, deg / s
55
 Time to bring the CTPU from the offline state to operational readiness, min
not more than 3
 Response time (minimum time from target detection to missile launch), s
up to 8
 The mass of CTU, t
1.3-2.0
 for a Needle-type Zoom:
          - type of missile used
          - firing modes
consistent,
salvo (2 missiles with different launch modules)
          - firing range, km
between 0.5 and 6
          - firing height, km
between 0.01 and 3.5
 for 9M120-1 type ZUR:
          - type of missile used
9M120-1, 9M120-1F, 9M120-1F-1, 9M120-1PRAKT
          - system of government
laser-guided semi-automatic
          - firing modes
consistent
          - firing range, km
between 1 and 6
          - firing height, km
between 0 and 2
Speed, gunshot/min.
3-4
Selection of missiles by type of BC
is provided by .
Armor penetration of 9M120-1 missile BC for ERS, mm
not less than 800
Time of flight of rocket 9M120-1 on D=5000 m, with
not more than 14,5
Manual charging/discharging time of one PU guide rail, min.
not more than 0,5
Testing: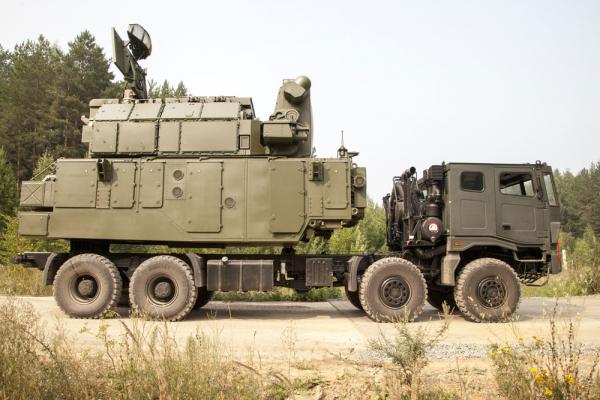 In October-November 2013 at the range of the Russian Ministry of Defense Kapustin Yar were tested version of the "Tor-M2KM" SAM system on the chassis of the Indian company Tata Motors. In the course of tests all the declared tactical and technical characteristics were fully confirmed, in particular, the combat capabilities of the complex to engage air targets at the far border of the kill zone of 15 km, targets flying at a speed of 700 m / s, as well as targets flying with a heading parameter of more than 6 km at a range of 12 km.
All-weather, all-weather and driving characteristics of the complex were confirmed. In addition, in the process of testing was tested interaction in a group consisting of a combat module, transport and charging module 9T244K, radar duty mode "Casta-2E2" and a unified battery command post "Ranzhir-MK".
Sources:
Продукция военного назначения для ВМФ (Рекламный проспект ГСКБ "Алмаз-Антей")
Other languages: