The materials are provided: S.V. Gurov (Russia, Hero City of Tula)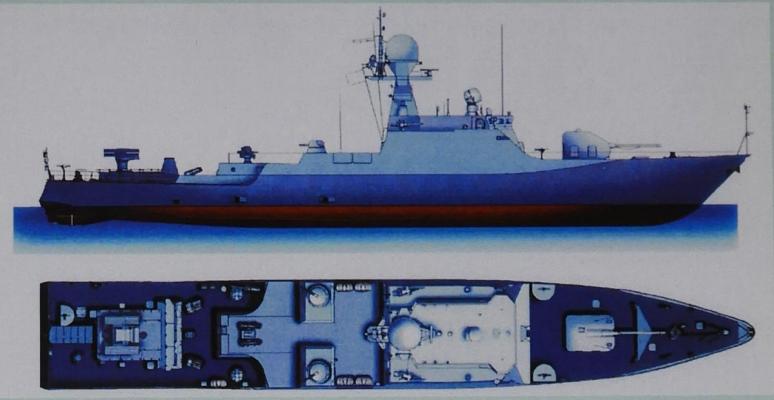 The development of a small rocket ship of project 21632 "Tornado" was carried out by specialists of JSC "Zelenodolsk Design Bureau" (Russia, Zelenodolsk, Republic of Tatarstan), which is a part of the United Shipbuilding Corporation since 2007.
The ship of the Ave. 21632 Tornado Ave. is known in modifications with Yakhont anti-ship missile system, Uran-E anti-ship missile system, as well as with Grad-M shipborne radar station A-215.
Non-controlled reactive weapons: 1×40 MS-73 PU of NURO A215 "Grad-M" complex. Control by radar 5P-10-03E (Laska-M).
According to the data from the advertising passport, a small rocket (artillery) ship, Ave. 21632 "Tornado" is offered in the following variants:
option 1 (artillery);
option 2 (missile) with Uranium-E;
variant 2 (missile) with the RK "Yakhont";
Option 3 (patrol) with 8 needle-type man-portable air defence systems.
Since September 2014 specialists of the plant together with specialists of JSC "Rosoboronexport" worked on preparation and signing of contract documents for delivery of small rocket ships of project 21632 "Tornado" to the Republic of Kazakhstan. A draft contract was prepared in December 2014. A delegation from the Russian side visited the Republic of Kazakhstan to agree on the main articles of the contract. As of February 2015, the Kazakh side had not taken a final decision on the delivery of the Tornado small missile boat.
The Tornado, a small missile ship of project 21632, is designed to operate in the seas and rivers and to carry out peacetime tasks in the association's area of responsibility.
                                                                       Main features
Full displacement, t
around 560
Main dimensions (length× width× seating), m
61,45×9,6×2,0
Full / economic speed, nodes
26/12
Economical cruising range, miles
2300
Autonomy, 24 hours.
10
Recommended crew, man
36
GEU (type, number of motors, power), kW
twin shaft CODAD (MTU 16V4000V90) 4×2710
Motors
water cannons
Generator diesel power, kW
2 × 300
Arming
Anti-ship missile:
Artillery:
1×1 AU A190 cal. 100mm
2×6 AU AK-306 cal.30mm
radar control 5P-10-03E
It's anti-aircraft:

ZM-47 "Gibka" turret unit for man-portable air defense systems of "Needle" type

Machine-gun:
2×MTPU (Marine Tumbler Machine gun) feces. 14,5
3×CPMB feces. 7,62
R.E.B:
2×10 PU KT-216E complex PC-10
It's counterproductive:
GAS Anapa-ME
DP-64 hand grenade launcher
Radio technical:
Pozitiv-ME 1.2" ARLS,
ROLLS 5P-10-03E,
NRLS MR-231,
SNIS "Ladoga-ME"
Sources:
АО «Зеленодольское проектно-конструкторское бюро». [Электронный ресурс] // URL: http://www.aoosk.ru/companies/oao-zelenodolskoe-proektno-konstruktorskoe-byuro/ (дата обращения: 06.11.2018 г.)
Ксерокопия рекламного паспорта №2609/08/НЭК малый ракетный (артиллерийский) корабль проекта 21632 "Торнадо". Утвержден 26 апреля 2008 года. - С. 5,8.
Малый ракетный корабль проект 21632 "Торнадо". Рекламный листок ОАО "Зеленодольское проектно-конструкторское бюро". Первая половина второго десятилетия ХХI века.
Малый ракетный корабль пр. 21632 "Торнадо". Рекламный листок ОАО "Зеленодольский завод имени А.М. Горького". Первая половина второго десятилетия ХХI века.
Итоги работы Зеленодольского завода имени А.М. Горького в 2014 ГОДУ. [Электронный ресурс] // URL: http://foto-i-mir.ru/zelenodolsk-plant-2014/ (дата обращения: 06.11.2018 г.)
Казахстан решает вопрос о выборе зарубежного подрядчика для строительства новых корветов. [Электронный ресурс]. Дата обновления: 29 мая 2014 года // URL: http://www.armstrade.org/includes/periodics/mainnews/2014/0529/100124084/detail.shtml (дата обращения: 06.11.2018 г.)