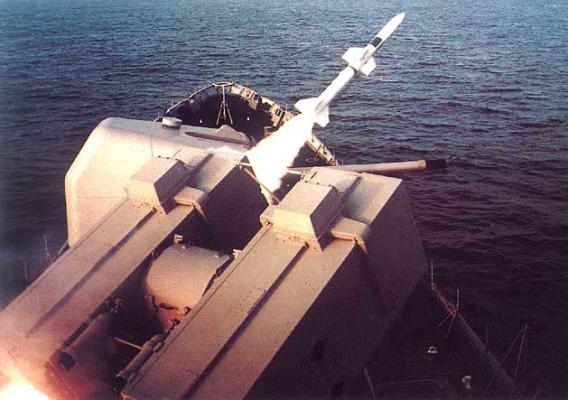 "Albatros-Aspide" - all-weather anti-aircraft missile system (SAM) of the near range, designed to protect surface ships from low-level maneuvering anti-ship missiles, aircraft and helicopters. Is in service with the Navy of Italy, Argentina, Brazil, Malaysia and several other countries.
An important advantage of the complex is the ability to operate in a complex interference environment, in conditions of intensive enemy use of REB.
It is manufactured by Alenia-OTO Sistemi Missilistici and Alenia Elsag Sistemi Navali, both divisions of Alenia Marconi Systems (Italy).
The complex includes a multi-purpose solid propellant rocket "Aspide" of various modifications, which is also used in the "Spada" SAM system.
Composition: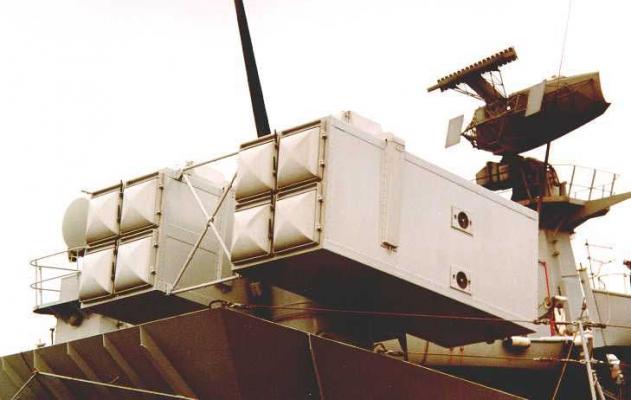 The "Aspide" rocket, which is part of the "Albatros" complex, is based on the glider and components of the RIM-7H "Sea Sparrow" rocket. In contrast to the prototype "Aspide" has a new radar semi-active inverse monopulse SNS X(I)-range (3.75 - 3 cm) and is characterized by improved characteristics of operation in interference conditions. When pointing at a target, the proportional navigation method is used. Shrapnel-type combat unit is equipped with an upgraded Doppler radio detonator, which eliminates false triggering from the sea surface.
The sea version of the Aspide missile has a slightly smaller wingspan compared to the basic version with a more powerful solid propellant engine (manufactured by SNIA-BPD SpA).
In principle, the Albatros SAM system can be integrated into any existing fire control system, including Alenia Difesa - Naval Systems Division (such as NA-21 and NA-30 Dardo E), Signaal (Mk.2 Mod.9) and other systems produced by Marconi, Ceisus Tech and Thomson. In each of these configurations, the Albatros can be used alone or in pairs (the latter requires two target illumination transmitters).
The basic version consists of a control system, hardware docking to the ship's fire control system, a launcher that provides storage, control and reloading of the ammunition.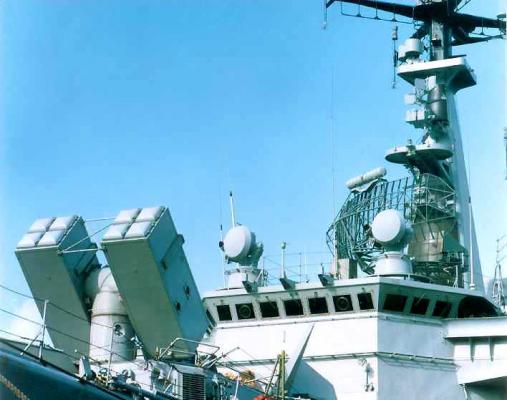 There are two types of Albatros SAM system launchers:
lightweight PU on 4 containers (see photo - installed on some corvettes built for export)
heavy standard PU for 8 containers (provide storage, launching and simultaneous reloading of 4 missiles, weight - 7 tons, installation angles 5°-65°)
The Albatros SAM system is part of the armament of Italian Navy ships in the following configuration:
Aircraft carrier "Garibaldi" - two PU in 8 containers and ammunition in 48 missiles, three control systems "NA-30 Dardo-E".
Multi-purpose destroyers type "Durand de la Penne" - one PU 8 containers with automatic reload 16 missiles, and four "NA-30 Dardo-E" to control the SAM, artillery.
Multi-purpose destroyers type "Audace" - one PU - 8 containers and a total stock of 16 missiles:
Maestrale" multi-purpose frigates - one PP - 8 containers and total ammunition of 24 missiles:
Patrol frigate type "Soldat" - one PU - 8 containers Two PUO "NA-21"
Corvette type "Minerva" - one PU - 8 containers and SUO "NA-30 Dardo-E".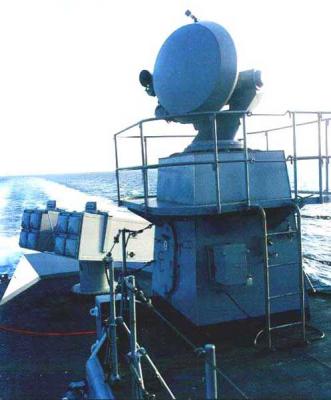 The NA-30S (Dardo-E) fire control system includes an advanced modular radar and optoelectronic fire control system designed to control the ship's anti-aircraft missiles and art systems in complex interference environments. The NA-30S is capable of automatically controlling Albatros SAM systems and three anti-aircraft artillery systems (e.g. OTOBreda 76mm Super Rapid) and coordinating their action against air targets.
The NA-30S is a part of it:
Universal information display system (two high-resolution raster colour monitors) combined with "IPN-S" C2 combat control system.
powerful computer system;
optical, television, infrared and laser channels for monitoring and control.
The Alenia Orion RTN-30X coherent monopulse radar with encoded waveform is used as a target detection, tracking and illumination radar. The increased range of search and tracking accuracy in a complex interference environment are provided by high radiation power, microprocessor control and the use of a number of advanced radar technologies. The target illumination radar operates in pulsed mode.
Integrated in the antenna post of the radar RTN-30X TV-optical target detection tools increase the interference immunity of the complex and can be used as an alternative control channel.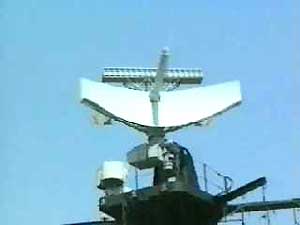 All Italian ships equipped with Albatros SAMs are equipped with AESN RAN-10S (SPS-774) universal radar developed by Alenia Marconi Systems, which is used for air and surface surveillance. It is a powerful "E"-"F" band station with a range of about 150 km, allowing installation on ships of medium displacement such as destroyers, frigates and corvettes.
Its main features:
wide field of view;
increased radiation power and high resolution;
the use of an encrypted waveform which, together with digital signal processing, ensures the functioning of the system under conditions of interference and electronic counteraction by the enemy;
the ability to operate in a wide range of frequencies, depending on the interference environment.
The rotating stabilized antenna of the radar is combined with the antenna system of "own-user" identification, which is located on the top of the reflector.
Characteristics:
ZRК "Albatros"
Maximum intercept range, km.
15
Maximum intercept altitude, m
6000
Minimum intercept height, m.
15
The Aspide rocket.
Length, mm
3673
Body diameter, mm
204
Wingspan, mm
644
Start weight , kg
217
Weight of shrapnel-flagged combat unit, kg
39
Maximum flight speed, M
2.5
Testing:
Despite the declared high effectiveness of HARM missiles of early modifications can not be considered a modern high-precision weapon because they do not have a full-fledged recognition system "insider". Thus, for example, during Operation Desert Storm, the U.S. Air Force could not always effectively use HARM missiles because the Iraqi air defense facilities, along with Soviet-made systems (against which the use of this type of missiles is calculated) included American Hawk systems.
Other languages: