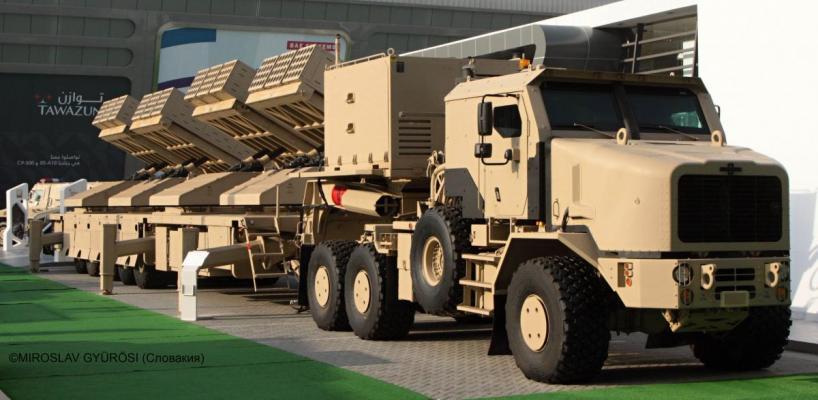 The MCL (Multiple Cradle Launcher) combat vehicle is designed to provide effective short-range fire support, as well as to defeat and suppress a wide range of enemy targets at ranges from 16 to 40 km by massively launching up to 240 122 mm rockets.
The MCL combat vehicle was developed by JOBARIA Defense System (JBS), part of the Tawazun Group Corporation from the United Arab Emirates (UAE). Two samples of this combat vehicle were first demonstrated at the International Exhibition IDEX-2013 (Abu Dhabi, UAE), held from 17 to 21 February 2013. (Refer to BM. © I.V. Kuznetsov (NPO SPLAV, Tula) photo 1, photo 2, photo 3, photo 4, photo 5, photo 6, photo 7). MCL is a representative of the ever growing number of weapon systems being developed in the United Arab Emirates with the help of foreign contractors, the final assembly and integration of which is organized in the UAE.
According to Jane's, the MCL multiple rocket launcher system is in service with the United Arab Emirates Army.
Composition: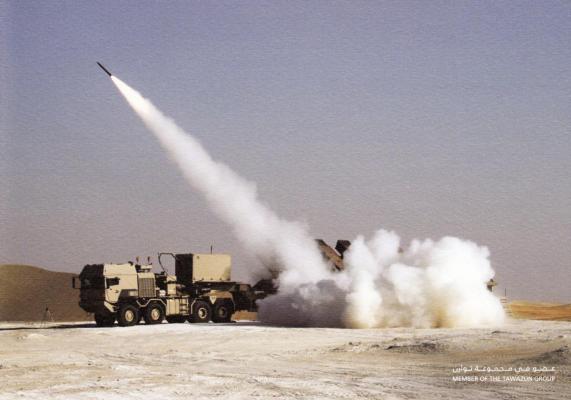 The MCL combat vehicle is an Oshkosh Defense 6x6 tractor, towing a five-axle semi-trailer on which four artillery pieces are mounted, three transport and launch containers for twenty 122-mm unguided rockets each.
The combat vehicle is equipped with an armored cabin, air conditioning systems, biological and chemical protection, centralized tire inflation system. Stanag Armor Level 2 (Level 2 according to NATO classification). The semi-trailer has an auxiliary electro-hydraulic power unit (EHU) and a crane-manipulator. The UPS provides autonomous operation of all electrical and hydraulic systems of the combat vehicle.
The system uses modern 122-mm rocketsan TR-122 series unguided rockets (NURS) with maximum range up to 40 km and minimum range of 16 km. This series of projectiles entered the UAE Armed Forces for several years together with the wheeled platform of the combat vehicle.
MCL combat vehicle is equipped with modern automated fire control system, meteorological complex, integrated inertial-satellite navigation system, sighting system and can be used independently or as a part of a battery. Each artillery unit has its own autonomous sighting system. The fire control system allows to fire from any transport and launch container or their combination, including the remote control.
The MCL combat vehicle can be fitted with a transport and charging vehicle based on the same all-terrain wheeled tractor and trailer. Unguided projectiles are placed in quick-release transport and launch containers on 20 rails, which ensures rapid deployment and reloading of the combat vehicle.
Calculation of the combat vehicle - 3 numbers: commander, operator of the navigation system and driver.
Characteristics:
Overall dimensions, mm:
            - total length
            - full width
            - height (with antenna in camping position),
29000
4000
3800
Number of artillery pieces
4
Total number of NURS in transport and discharge containers
240
Area of defeat, km2
470
The weight of a fully equipped combat vehicle, t
105
Fuel reserve (both tanks are fully filled), liter
940
Stroke reserve over a kilometer Oshkosh tractor with a fully loaded trailer (on paved roads and off-road), km
under 450
AUXILIARY POWER SUPPLY (VBP)
 
WBP (200 litres), hour
24
operated hydraulic outriggers (remote supports)
10
operating artillery pieces with electric drive (or drives)
380 V AC (380 volts in AC mains)
ARMOURED CAB AND CHEMICAL PROTECTION SYSTEM
 
armour protection
Stanag Level 2 (NATO Classification Level 2)
biological and chemical protection
for a maximum of 24 hours
APPLICATION
 
on battery
battery command center
offline
proprietary fire control system
cable capability
via remote control
land-based meteorological facility
yes
NAVIGATION
 
GPS location system
yes
inertial navigation
inertial navigation block/ GPS positioning system
distance travel accuracy
0,15 – 0,25%
NAME
 
pointing and sighting system (autonomous for each artillery unit)
4
pointing accuracy (azimuth and elevation angle)
1 mile (one thousandth range, 0.05625°).
COMMAND AND CONTROL
 
in full command of the war machine commander
data/radio
fully integrated with senior management systems
data
Turkish unguided rockets TR-122 HE and TRB-122 (1,2) are used for firing.
Characteristics of ammunition
Identification of ammunition
TR-122 HE
TRB-122
Shooting speed, sec.
0,4
0,5
Range of fire angles, mils.
±880 (±50°)
±880 (±50°)
Minimum range, km
16
16
Maximum range (at 600 m above sea level), km
40
40
Ratio of probable deviation (percentage of distance)
≤1,3
≤1,3
Testing:
It is alleged that two projectiles were launched towards the Israeli capital, the city of Tel Aviv, from Gaza on the evening of 15 November 2012.
The Palestinian terrorist organization Al-Quds Brigades, the militant wing of the Islamic Jihad, claimed responsibility for the shelling.  According to their statement, two Fadjr-5 rockets were fired towards Tel Aviv, indicating that the group had hundreds of such rockets.
Sources:
Рекламный разворот: JDS Multiple Cradle Launcher    
 
Авторские фотографии ©И.В. Кузнецова (Россия, г.Тула, ОАО "НПО "СПЛАВ")   
 
Авторская фотография ©MIROSLAV GYÜRÖSI (М.Дюроши, Словакия)
 
Other languages: