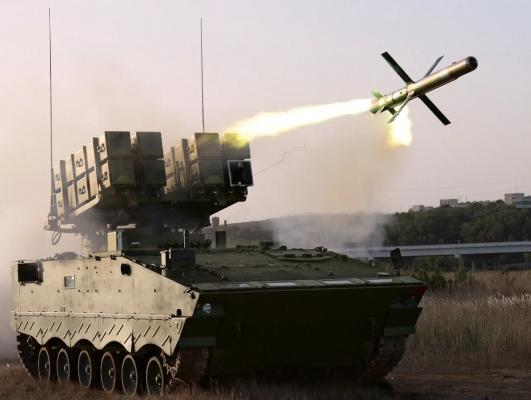 Multi-purpose missile system AFT-10 with anti-tank guided missile (ATUR) HJ-10 is designed to engage modern armored vehicles, including those equipped with dynamic protection, fortifications and engineering structures, low-speed air and surface targets at any time, in difficult weather conditions.
PTUR HJ-10 was adopted by the People's Liberation Army of China in 2012 and is used to arm combat helicopters, unmanned aerial vehicles and accommodation on self-propelled landing gear of various types. Judging by the published information, the nearest analogue of the HJ-10 is the Israeli Spike-ER.
AFT-10 complex (photo1, photo2, photo3) is made on the chassis of infantry fighting vehicle ZBD-04A and designed by China Aerospace Science & Industry Corporation Limited (CASIC). AFT-10 was first demonstrated during Peace Mission 2014 exercise. (Peace Mission 2014).
At the 6th International Exhibition of Arms IQDEX-2018 in Baghdad, Chinese foreign trade company NORINCO presented a version of the HJ-10B PTUR as part of a multi-purpose complex based on wheeled armored personnel carrier VN-1 8x8 (export version of the Chinese ZBL-09 see photo1, photo2, photo3, photo4, photo5). The HJ-10B differs from its predecessor, the HJ-10A, by its advanced homing thermal imaging head. 
Composition: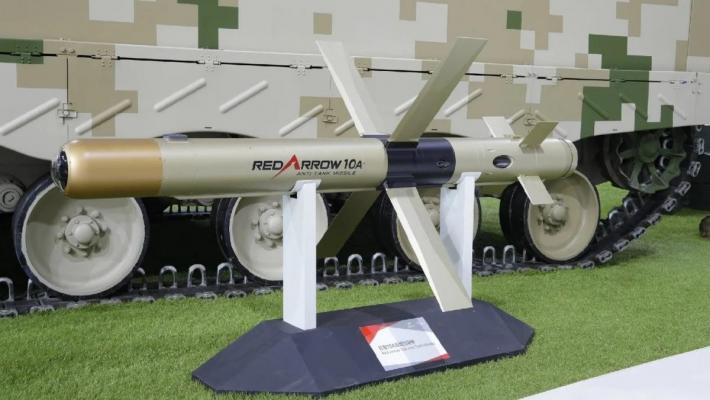 The main element of the complex is the guided missile HJ-10 (红箭-10, Hong Jian - 10, "Red Arrow -10"). The missile (see photo) has a cylindrical body of large elongation and a hemispherical head cowl. It is made according to the normal aerodynamic scheme, in the middle part of the hull there are X-shaped wings, which are unfolded after leaving the TIC. Two pairs of rudders are located in the tail part. The rocket is equipped with solid propellant launch and marching engines. Recessed taper-type marching engine nozzles are located on the side surface of the rocket in front of the rudder.
The missile has a length of 1850 mm, hull diameter 165 mm, launch weight 43 kg. Maximum flight range is up to 10 km. Its marching speed is 150 m/s, while diving on the final section of the trajectory its speed can reach 230 m/s.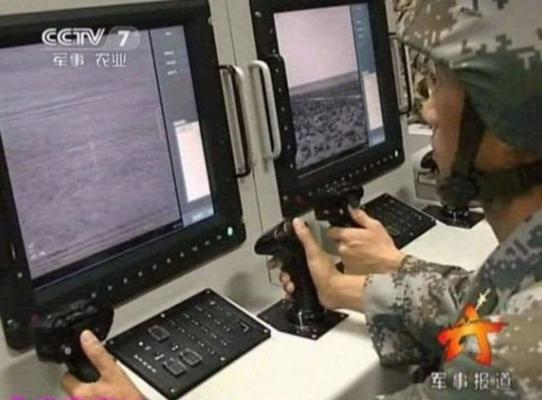 The guidance system is a combined system that includes a television/thermal imaging (IIR) homing head, an inertial system and a two-way fiber optic data transmission channel. The target image generated by the homing head is transmitted to the operator's console via a data transmission channel and control commands are received on board the missile via the same channel.
This makes it possible to implement a wide range of combat applications, including shot-and-forget, command guidance and implementation of complex flight trajectories, target acquisition and redirection after launch, shooting at an invisible target from a closed position. The plans to upgrade the HJ-10 announced the replacement of the fiber optic data channel with a radio channel.
The HJ-10 enables the target to be hit both in direct hit and from above by using different types of combat units.
Possible combat equipment options:
 tandem cumulative BC (armor penetration 1200-1400mm homogeneous armor);
 BC of the "kick core" type for hitting a target in the upper projection.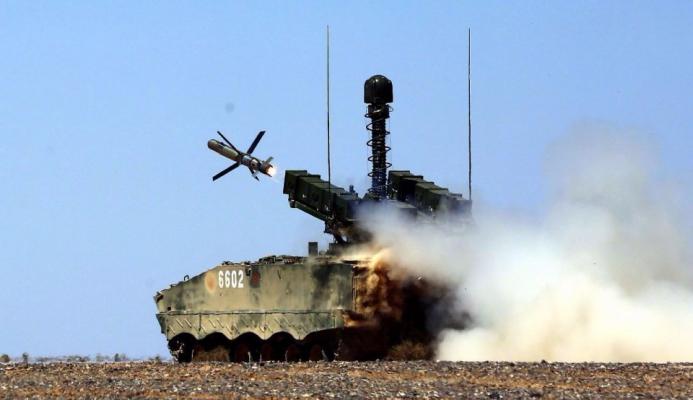 AFT-10 complex is placed on the chassis of ZBD-04A infantry fighting vehicle. The weight of ZBD-04A infantry fighting vehicle is 20 tons, length - 7.15m, width - 2.74m, height - 2.4m. The hull's armor provides protection against bullets of large-caliber small arms and artillery shell fragments. BMP ZBD04A is equipped with a diesel engine, which provides maximum speed on the highway up to 65 km/h. It has a range of 500 km. If necessary, the BMP can overcome water obstacles in swimming using a water-jet propulsion system.
A swivel platform is mounted on the chasing of the tower, on which a lifting frame with a hydraulic lifting mechanism is mounted, which provides an elevation angle of 40°-80°. On the lifting frame there are two four-seat blocks of transport and launching containers with HJ-10 PTUR, between which on the lifting mast there is a block of guidance equipment. Guidance equipment of the complex includes: radar target detection station, optical and electronic equipment with a thermal imager and laser rangefinder. In the rear part of the turntable there are radio antennas of the combat vehicle communication system.
The combat vehicle has two workstations for HJ-10 PTUR operators, which makes it possible to fire a double rocket volley.
Characteristics:
PTUR HJ-10
Range of fire, km
                    - minimum
                    - maximum
2
10
Start weight, kg
43
Length, mm
1850
Body diameter, mm
165
Armor penetration of tandem-cumulative BC, mm
1400
Speed of flight on the march, m/s
150
AFT-10 complex

| | |
| --- | --- |
| Mass, t. | 20 |
| Length, m | 7,15 |
| Width, m | 2,74 |
| Height, m | 2,4 |
| Maximum speed on the highway, km/h. | 65 |
| Power reserve, km | 500 |
| Ammunition, pcs. | 8 |
Sources:
Other languages: