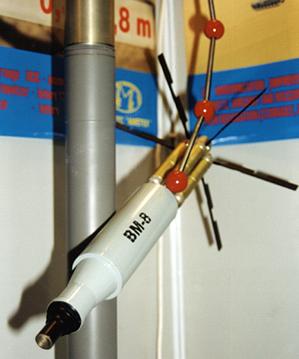 High-precision killers are increasingly being used on the battlefield. However, they require special intelligence and target designation systems. Experience of war in the Balkans shows that even the most advanced aerospace reconnaissance means are not yet able (at least in the conditions of mountainous and forested terrain, typical for southern Europe) to effectively cope with the tasks assigned to them. So, as a result of 79-day air strikes on grouping of the Serbian armies in Kosovo, numbering more than 300 tanks, forces of allies managed to destroy no more than 13 of them (thus the part of technics, probably, should be written down on the account of fighters of Liberation army of Kosovo).
In these conditions, the role of guidance and target designation means, troops deployed in the combat order or put in the enemy's rear as part of special purpose groups should not be underestimated (it should be noted that during the fighting in Kosovo, the role of such groups, interacting with the Kosovo separatists, was constantly increasing, although it was accompanied by losses on the part of "special forces" of NATO countries).
At the MAKS-99 International Aviation and Space Salon, AMETECH ("Automation and Mechanization of Technologies") presented a draft of the "Threat" system of corrected missile weapons (in Western publications, the project was named RCIC - "Russian Concept of Impulse Correction").
The Threat" aviation guided weapon system includes S-5Kor (57 mm caliber), S-8Kor (80 mm) and S-13Kor (120 mm) corrected missiles. They are based on S-5, S-8 and S-13 unguided aviation missiles (ANR) by equipping them with semi-active laser homing systems. HAR of these types are standard armament of practically all combat airplanes and helicopters of front, army and sea aviation of Russia, and also Air Forces of many foreign countries.
Composition:

In the course of modernization, the missiles are equipped with flight-detachable head units, stabilized by opening plumage. At C-5kor, the plumage consists of four petals and opens with a spring, at C-8kor and C-13kor - the plumage is six petals and opens with a gas piston (see photo). The homing system provides the capability to engage small ground targets (tanks, infantry fighting vehicles, APCs, etc.) of almost all types. At the same time, laser illumination (lasting about 1 sec.) can be carried out either from a carrier aircraft (a carrier helicopter), or from another aircraft or a ground target designation pointing device. The flight of the head unit is corrected by means of pulsed rocket engines (see photo). Several missiles are proposed to engage a single target, which significantly increases the probability of the target being hit.
Equipping combat aircraft, previously in service with only uncontrollable aircraft rockets of traditional types, complex "threat" increases their performance on the criterion of "efficiency-cost" in three or four times. The consumption of ammunition for hitting standard targets is reduced by more than 50 times.
For transportation and launch of S-13kor missiles the B-13 launcher is used, which provides the possibility to launch both on multichannel control system and on single-channel, single or series of commands from the carrier board. Protection of the missiles in the launcher from aerodynamic heating is provided by heat-resistant gaskets. Emergency separation of the B-13L unit from the launch vehicle is performed by means of a built-in pyromechanism.
Introduction of "Threat" complex can be carried out at the minimum changes made in a design of aircraft-carriers, starting devices and ground infrastructure that favourably distinguishes it from other complexes of aviation high-precision weapon. Upgrading of existing ANRs can be carried out directly in parts or on storage bases (including outside Russia) using air mobile workshops.
Similarly, the AMETECH Association intends to improve ammunition for army howitzers and howitzer guns of 100, 122, 152, 155, 203 and 305 mm calibre, rifled and smooth-bore guns with high initial projectile velocity (100, 105, 120, 125 and 130 mm), mortars (81, 82, 120, 160 and 240 mm) and multiple launch rocket systems (105, 122, 140 and 240 mm).
Characteristics:
Rocket
С-5cor
С-8cor
С-13cor
Header
ВМ-5
ВМ-8
ВМ-13
Weight of the head end
5.85
6
-
Length of the head end, mm
-
600
-
Battle unit weight (TNT equivalent), kg
0.5
1.5
7
Armor-piermeable, mm
200
400
-
Range of fire, m
2500-7000
2500-8000
2500-9000
Shooting accuracy (CWO), m
0.8-1.8
0.8-1.8
0.8-1.8
Flight speed at the exit of the PU, m/sec
37-56
-
-
Maximum flight speed, m/s
450
480
500
Carrier speed, m/s.
-
160-330
160-330
Height of application, km
up to 30
-
-
Shot time, s
0.018-0.021
-
-
Smallest angle of obstacle, deg
15
-
-
The length of the rocket, mm
1100
1650
3000
Caliber, mm
57
80
122
Swing of stabilizers, mm
232
374
540
Start weight, kg
around 5
15,20
70
Weight of charge of the marshal engine, kg
1.13
-
-
Operating time of the marshal engine, s
0.53-0.84
1.28
-
launchers
UB-16-57, UB-16-57, UB-16-57UM,
UB-16-57UD, UB-16-57UDM, UB-32,
UB-32A, UB-32A-24, UB-32-57U,
UB-32M, B-32M, UB-8.
B-8, B-8M, B-8M1, B-8V7,
B-8V8, B-8V20, B-8V20A
B-13L, B-13P
Testing:
In 1990 Vladimir Dmitrievich Gerasimov was awarded the S.I. Mosin Prize for his work on the topic "For the development of the 111SO2 rocket projectile for the Udav-1M complex" (work presented by NPO SPLAV).
In 2017, the head of the department of JSC "NPO "SPLAV" Verbovenko Alexander Andreevich (head of work), chief engineer of JSC "Novosibirsk Artificial Fiber Factory" Viktor Vankov was awarded the S.I. Mosin Prize for work on the topic: "Creation of production and testing base for serial production of antithorpedic shell 111SZG". The work was presented to JSC "NPO SPLAV".
Sources:
А.В.Карпенко, С.М. Ганин "Отечественные авиационные тактические ракеты", "Бастион" N1, 2000г.
В. Ильин "Недорого и эффективно" - Независимое военное обозрение 18.09.1999
Other languages: