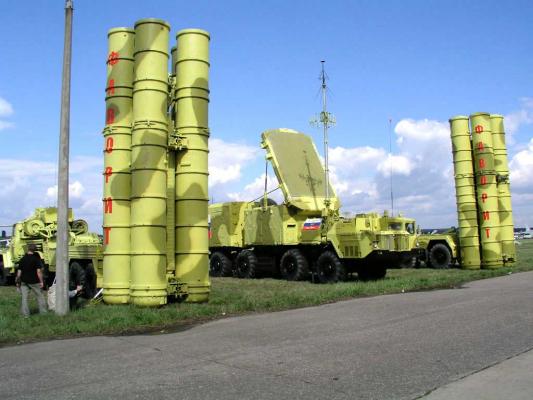 C-300PMU-2 "Favorite" universal mobile multichannel anti-aircraft missile system is designed to defend the most important objects of the state and its armed forces from massive strikes of modern and advanced aircraft, strategic cruise missiles, tactical and operational-tactical ballistic missiles and other means of air attack, in the full range and speed of their combat application, including the impact of intense active and passive interference.
The C-300PMU-2 "Favorite" system is a further development of the S-300PMU-1 anti-aircraft missile system. The combat capabilities have been increased by the creation of a new missile 48H6E2, which has an increased effectiveness in defeating ballistic targets at ranges up to 40 km with the provision of detonation of the combat charge of the target, increasing the long range boundary of the zone of destruction of aerodynamic targets up to 200 km, including when firing inhaler, expanding the information capabilities of the command post of the system for the detection and tracking of ballistic targets with the preservation of the sector of detection of aerodynamic targets.
In addition, the system's detection characteristics have been improved when conducting autonomous combat operations through the use of a new autonomous target designation vehicle, the radar 96L6E; it is possible to use 48N6E missiles S-300PMU-1 along with 48N6E missiles; and it is possible to integrate the Favourite system into any air defence systems, including those of NATO countries.
The C-300PMU-2 SAM system was created in 1995-1997 and is being improved by the cooperation of the developers of the "three hundred" family (the main developer is NPO "Almaz"). The system is actively offered on foreign markets, the Russian army is currently entering into service a new generation system C-400 "Triumph".
Composition: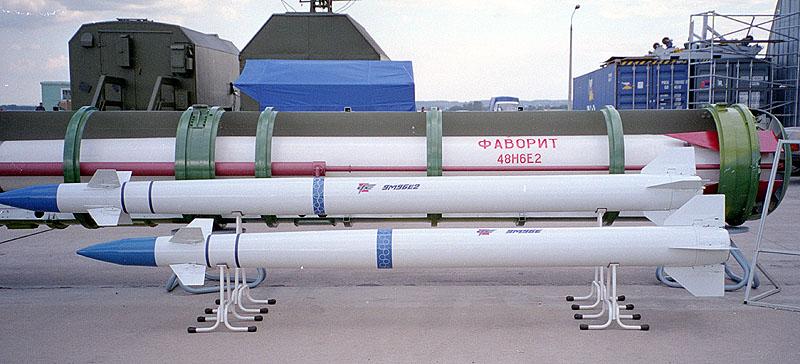 C-300PMU-2 is a part of the SAZ:
control center 83М6Е2
up to six anti-aircraft missile systems (SAMs) 90G6E2.
anti-aircraft guided missiles (SAM) 48H6E2;
technical support facilities similar to the S-300PMU-1 surface-to-air missile systems.
The Command Post of the Control System (CCS) 83М6Е2 receives and summarizes information about the air situation from various sources, controls combat operations of firing divisions, receives control commands and information about air objects from the command post of the air defense zone.
Control SU 83М6Е2 is a part of the control centre:
Combat control station (PBU) 54K6E2. The 54K6E2 PBU automatically determines: the parameters of the trajectory (range, speed, height, direction), state ownership, type and degree of danger of an air object, the conditions of firing of each firing division, the optimal distribution of targets in the firing divisions for their defeat, taking into account the conditions of firing and the available ammunition. PBU 54K6E2 is able to control SAMs S-300PMU-2, S-300PMU-1, S-300PMU, S-200VE in any combination. The 54K6E2 PBU provides for simultaneous firing of up to 36 targets with up to 72 SAMs pointed at them. Number of simultaneously detected targets - up to 300, number of simultaneously accompanied target trails - up to 100.
64H6E2 detection radar. 64H6E2 - Fully automatic three-axis surveillance radar with double-sided phased antenna array S-band, provides the command post of the system with high-quality information about air objects within a radius of 300 km. This information is used by each SAM system via built-in communication channels.
means of operation.
Each 90J6E2 SAM includes:
multifunction illumination and pointing radar (tap changer) 30H6E2. The 30H6E2 illumination and pointing radar provides search, detection, automatic target tracking, performs all operations related to the preparation and firing of anti-aircraft missiles, as well as assesses the results of firing. Multifunctionality of the locator is provided by application of phased antenna arrays of X-band and high automation of all processes of its functioning on the basis of modern high-speed digital control methods. The 30N6E2 on-load tap-changer antenna post can be lifted to a special 40V6M mobile tower.
up to 12 launchers (PU) of 5П85СЕ, 5П85TE type. Vertical launch unit 5П85СЕ (5П85ТЕ) provides storage, transportation and launching of missiles. Contains four anti-aircraft missiles 48H6E2 (48H6E). The missiles are in airtight containers and do not require maintenance for 10 years of operation. Missiles 48H6E2, has high maneuverability and capabilities for overload. It is equipped with a shrapnel-flag warhead and provides for the engagement of air targets at ranges from 3 to 200 km both on counter courses and when firing. When acting in a missile defense system, the explosion of the missile's warhead by optimizing the area of flight of fragments and their spatial and energy characteristics causes the ballistic missile warhead to initiate at the intercept point. As with previous versions of the S-300 system, the missile is launched vertically using a powder catapult. At an altitude of approximately 25 metres, a marching engine is engaged to accelerate the missile to 1900 metres per second. The rocket is controlled by means of gas rudders. The system is capable of launching missiles at a rate of three rockets per second, providing protection against massive hits of enemy air attacks.
All Altitude Detector (VVO) 96L6E with full azimuth multi-beam PHAR automatically gives out on the radar 30N6E2 and KP SU 83M6E2 information about the air situation on aircraft and cruise missiles (including those made by technology "Stealth"), flying from any direction. Due to adaptive use of wide-base signals and multi-frequency operation, the locator provides highly effective detection of both low-altitude targets and targets at medium and high altitudes. To detect targets at extremely low altitudes in the forest and rugged terrain antenna device locator can climb a special tower - 966AA14. VOLO 96L6E is designed to detect, determine nationality, class recognition, tying and tracking routes of air objects, issuing target designation and three-axis information about all detected air objects to consumers on the radio channel, cable channel and (or) fiber-optic communication line. The procedure for transmitting information to the consumer is organizationally determined by an agreed interfacing protocol, and hardware - by replacing reprogrammable interface cards. VOO 96L6E can be used as part of systems S-300PMU, S-300PMU-1, S-300PMU-2, including in the conduct of hostilities by a single division, combining the functions of a low-altitude detector, surveillance radar and command post, as well as used in radio engineering and anti-aircraft missile units as a combat mode radar.
The combat operations are conducted independently on the basis of the aggregate of information from the radars that are part of the SU 83M6E2 and 90Zh6E2 SAM systems, as well as from the additional radars provided to the S-ZOPMU-2 systems: the 76N6 low-altitude radar (IEE) and the 36D6 radar. Detection radars and illumination and pointing radars simultaneously review airspace, detect and identify airborne objects. Simultaneous viewing of airspace by several radars completely excludes undetectable air objects, including cruise missiles at extremely low altitudes flying from any direction with a rounded terrain, in conditions of intensive reflections from local objects and counteraction by the enemy. Detected air objects are continuously accompanied and trace information about them is received by the control system 83М6Е2.
Improvement of the equipment and software and algorithmic support of ground facilities, introduction of 48H6E2 missile with upgraded combat equipment, integration of SAM and SU in a single air defense system, the use of new radar facilities attached to the SAMs, allowed:
Improve the effectiveness of all types of targets, including low-visibility targets at extremely low altitudes, in complex tactical and interference environments;
to achieve the effective destruction (detonation) of the ballistic missiles' warheads (HC) on their flight paths when applying 48H6E2 SAM by improving the guidance algorithms and upgrading its combat equipment;
to engage aerodynamic targets at ranges of up to 200 km on counter and catch-up courses without disrupting the kill zones on the parameter;
to increase the autonomy of combat operations of the SAMs, including through the use of an autonomous target designation tool of a new generation - BWO 96L6E;
to use, along with 48H6E2 missiles, 48H6E missiles of the S-300-PMU system1;
expand opportunities for integrating anti-aircraft missile weapons into various air defence systems, including those operating under NATO standards.
Characteristics:
Defeat range, km :
            - aerodynamic purposes
            - ballistic targets (as specified)
            - low-flying targets (H=0.05-0.1km)
  3 - 200
  5 - 40
  5-38
Height of defeat, km :
            - for aerodynamic purposes
            - ballistic targets (as specified)
  0.01 - 27.0
  2 - 25
Maximum course parameter, km
  ±195
Autonomous view sectors (angle x azimuth), hail :
            - for low-flying targets
            - for aerodynamic purposes
            - ballistically
  1 х 90
  14 х 64
  10 х 32
Number of simultaneously fired targets
  36
Number of simultaneously guided missiles
  72
Maximum speed of targets to be hit, m/s
  2800
Probability of hitting one missile:
            - aerodynamic targets
            - ballistic targets (as specified)
  0.8-0.95
  0.8-0.97
Response time, s
  8-10
System deployment time from march, mines
  5
Rate of fire, s
  3
Battle count, man.
  4-6
Speed of movement of combat units on highway, km/h.
  60
Speed of movement of combat units on dirt roads, km/h.
  30
48H6E2 rocket
Length, m
  7.5
Diameter,m
  0.519
Wheelspan, m.
  1.134
Mass of the missile warhead, kg
  180
Testing:
The first combat use of the S-200 SAM system took place in 1982 in Syria, where at a distance of 190 km the E-2C "Hawkeye" DRLO was shot down, after which the American aircraft carrier fleet withdrew from the Lebanese coast.  The Libyan S-200 complexes took part in repulsing an attack by American FB-111 bombers and possibly shot down one bomber.
On the basis of the 5B28 anti-aircraft missile of the S-200B complex a hypersonic flying laboratory "Cold" has been created to test hypersonic direct-flow air jet engines. The choice of this missile was based on the fact that the parameters of its flight path were close to those required for flight tests of the Hyper-Sonic Propulsion System. It was also considered important that the missile had been decommissioned and its cost was low. The missile's combat unit was replaced by the head compartments of the GLL "Kholod", which housed the flight control system, a liquid hydrogen tank with displacement system, a hydrogen flow control system with measuring devices and, finally, the experimental HPVRD E-57 of axially symmetric configuration.
Sources:
Система ПВО "Фаворит"/НПО "Алмаз"/
РЛС 96Л6Е /Лианозовский Электромеханический Завод/
Энциклопедия "Оружие России". 2001г.
Волковский Н.Л. "Энциклопедия современного оружия" ,1997г.
Other languages: