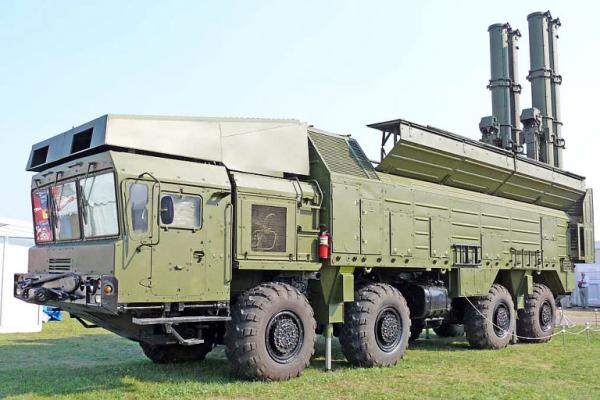 Mobile missile system "Calibr-M" (export designation Club-M) is intended for organization of anti-ship defense and giving combat stability to objects of the coastal zone, as well as for defeating a wide range of stationary (low-movement) ground targets at any time of day in simple and difficult weather conditions. Developed by JSC "Novator Design Bureau" (Ekaterinburg).
The "Calibr-M" complex is a part of it:
self-propelled launcher (SPS),
transport and charging machines (TZM),
a maintenance machine,
the communication and control machine,
rocket supply and storage equipment.
SPU and TZM complex can be placed on the chassis of the Bryansk Automobile Plant BAZ-6909 (for the Russian Armed Forces) or the Belarusian MAZ-7930. The LTA includes four to six transport and launch containers with missiles (see photo) for various purposes. The maximum speed on the highway is 70km/hour and on off-road is 30km/hour. Travel reserve without refueling - not less than 800 km.
Availability of anti-ship missile system 3M-54E1/3M-54E and high-precision cruise missile ZM14E designed to strike ground targets in combination with a single control system of the complex provides exceptional flexibility, efficiency and versatility of application, including on a purely land theater of war.
With the help of its own radar installed on a communication and control machine, the "Calibr-M" complex is capable of independently detecting and tracking surface targets, target distribution and hitting accompanied targets with anti-ship missiles 3M-54E1/3M-54E. The presence of active and passive radar detection channels makes it possible to implement a flexible detection strategy, including covert ones. The complex can receive operational information from superior command posts and external intelligence and target designation facilities. The range of detection of surface targets in passive/active mode is 450/250 km. The radar of the complex can accompany up to 30 surface targets.