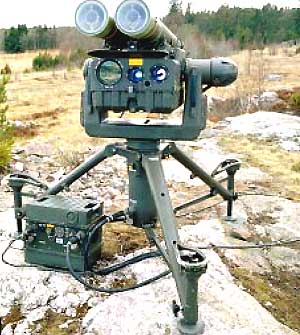 Swedish anti-aircraft missile system RBS-90 ("Robotsystem-90") is designed for air defense of armored and army formations, as well as bases of the Air Force from attacks of all means of air attack, including low-flying aircraft and cruise missiles, helicopters in hanging mode, at any time.
The complex is designed by Saab Bofors Dynamic's, Ericsson Microwave System AB and represents further development of RBS-70 type anti-aircraft missile systems with laser beam guidance. It differs from the prototype by using a more advanced element base in the fire control system, an improved missile with longer range and a more powerful warhead.
The first serial models entered service with the Swedish Army in late 1991. The complex complements the RBS-70 system and is considered an air defense system of division level. The division of the Swedish Armed Forces intends to have one battery of RBS-90 systems and two RBS-70 batteries.
Composition: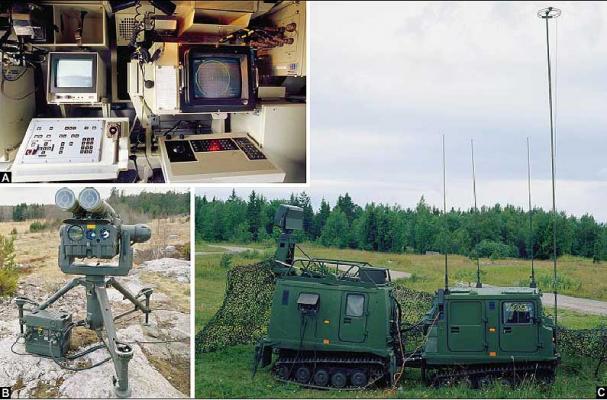 The combat vehicle of the complex is placed on an amphibious articulated tracked transporter BV 206s. The engine is "Mercedes-Benz" OM 603.950 diesel with an output of 136 hp. The combat vehicle is equipped with a generator, communication equipment, PS-91 detection radar, TV and thermal imaging equipment for target tracking (IK PI-917), remote launchers and missiles in transport and launch containers. The crew of the combat vehicle consists of 3 persons: the commander (who also duplicates the radar operator), the missile pointing operator and the PS-91 detection radar operator.
The missile guidance operator's workplace is equipped with a monitor (Fig. A), which displays information from the TV camera used to accompany the target in the daytime, and a thermal imaging camera - to accompany the target on thermal radiation at night. A television camera (range 8-12 μm) has a viewing angle of 3° x 4° and a thermal imaging camera - 4° x 6°. The operator's task when pointing the missile is to hold the target in a crosshairs until it is hit. Information about the target coordinates is transmitted by cable to a twin remotely operated launcher, which is placed on the ground on a tripod (Fig.B). It also hosts the missile's guidance equipment in the laser beam. When changing its position, the PU is folded and placed inside the tractor. Deployment time of the complex is about 8 minutes.
Joint combat operation of several RBS-90 systems is possible. Reception and transmission of information can be carried out both by cable and by radio line.
Three-axis impulse Doppler target detection radar PS-91 X-band (8.8-9.3GHz) has a detection range of hovering helicopters 8-10 km, aircraft - 16-20 km. The PS-91 provides simultaneous automatic tracking of 8 targets and has a built-in "own-as-user" identification system. The radar includes a simulator for operator training, which has 60 previously sewn into the memory of flight scenarios. It can accommodate 20 scenarios, which can be manually entered by the commander.
The RBS-90 complex is fully compatible with RBS-70 missiles - both Rb-70Mk.1 and the later modification Rb-70Mk.2 can be used. The latter option is the main one. The Rb-70Mk.2 missile with a shrapnel-array warhead is guided by a laser beam (0.9 μm range), has an extended field of view of the laser receiver, is equipped with a new marching engine and a more effective warhead.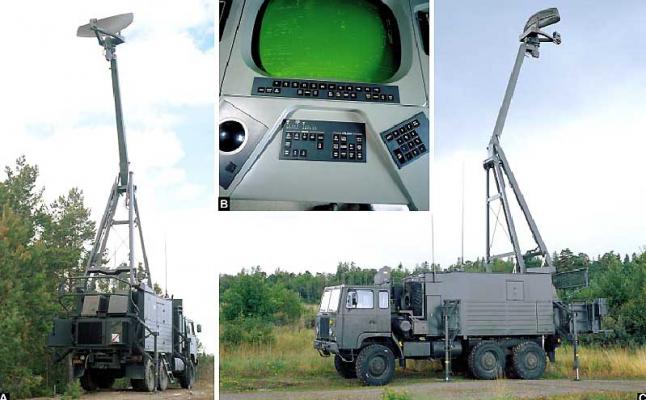 The RBS-90 combat vehicle is capable of independent combat operations, but to reduce reaction time it is paired with the PS-90 ("Giraffe-75") all-around radar, which provides more accurate information.
The RBS-90 battery consists of a radar platoon with PS-90 ("Giraffe-75") detection radar and two fire platoons, each of which has 3 combat vehicles. The three-axis PS-90 radar operates in C-band (5.4-5.9 GHz), has a detection range of up to 50 km and can accompany up to 20 targets simultaneously. The PS-90 radar is placed on the chassis of the Tgb 45 cross-country vehicle, can be removed from the chassis and placed on the ground if necessary. The radar antenna can be raised to a height of up to 20m using a hydraulic mast. Gross weight of the PS-90 radar together with the control cabin and chassis is 16160 kg. Crew - 4 people, deployment time - no more than 5 minutes.
The target traces are displayed on the Moving Target Indicator (MTI) (Fig.B), and detection of hovering helicopters is performed automatically.
Characteristics:
Fighting vehicle
Length, mm
6900
Width, mm
1870
Height, mm
2400
Clearance, mm
350
Maximum speed, km/h
55
Maximum speed on water, km/h.
3
Turn radius, m
8
Maximum lift overpassable, %
60
Power reserve, km
300
Rocket Rb-90 Mk.2
Range of impact, m
200-7000
Height of defeat, m.
4000
Maximum rocket speed, m/s
580
Flight time at a range of 2 km, s
6
Flight time at a range of 6 km, s
16
The length of the rocket, m
1.32
The diameter of the rocket, m
0.105
Missile launch weight, kg
17.0
Weight of combat unit, kg
1.2
Testing:
RBS-70 was used in real hostilities only in the military conflict between Iran and Iraq in 1980-88. In the Iranian armed forces, RBS-70 filled the niche between the Chinese version of the Soviet Arrow-2 man-portable air defence systems and the US Hawk medium range man-portable air defence systems. The appearance of RBS-70 on battlefields took place in January-February 1987. The high mobility of these anti-aircraft systems made it possible to organize ambushes on the most probable routes of Iraqi combat aircraft. It is believed that it was RBS-70 that shot down most of the 42 (according to some sources - 45) aircraft lost by Iraq.
Sources:
Василин Н.Я., Гуринович А.Л. "Зенитные ракетные комплексы" .-Мн.: ООО "Попурри", 2002- 464с.
Other languages: