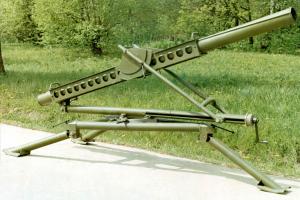 In 1995, the specialists of the State Enterprise "Splav" (now FSUE "SPLAV", Tula) and related enterprises completed the development of a target complex 9F689 ("Beaver") with simulated air targets, adopted in service of the Russian Army in 1997.
It is designed to equip training centers and firing ranges for training and test firing with the use of portable anti-aircraft missile systems and anti-aircraft missile systems of regimental and divisional level.
Airborne target simulators provide simulations of airborne attack means in terms of speed, trajectory and radiation characteristics:
low-visibility planes at extremely low altitudes;
cruise missiles;
hitting elements of high-precision weapons;
remotely piloted aircraft.
All simulators contain tracers that provide visual observation on the trajectory. The airborne target simulators are launched using the 9U14 remote launch unit from the 9P334 launcher, as well as the BM-21 Grad combat vehicle.
Number of tubular guides, pcs.
1
Guide length, mm
2996
Angle of elevation, deg:
            - minimum
            - maximum
10
45
Weight of installation, kg
245
Temperature range of application, ° C
between -40 and +50