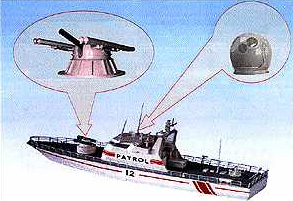 Shipbuilding programmes in many countries focus on manoeuvrable boats designed to protect territorial waters and economic zones, as well as to participate in patrol and combat operations. The use of 20, 30, 40 mm automatic cannons and 7.62 mm and 12.7 mm machine guns on patrol boats does not meet modern requirements due to their low efficiency at firing ranges of more than 2,000 metres.
The analysis of the combat use of boats and the characteristics of firepower of surface, coastal and air combat facilities showed the necessity to strengthen the armament of boats in order to expand the range of tasks to be fulfilled for the protection of territorial waters and economic maritime zones, to conduct patrol, police and customs operations, to ensure effective self-defense and participation in combat operations.
Equipping boats with multi-purpose high-precision missile weapons makes it possible to significantly increase their combat efficiency. Complex "Vortex", designed for the Russian combat helicopter Ka-50, best meets the requirements for armament boats.
Composition:
The modular principle of building of systems of a complex and their independence allow to provide various variants of placing on a boat depending on its class and carried out tasks. For a small boat the variant of construction of complex "Vortex-K" is offered, including:
a guided multi-purpose missile, the Vortex;
fire control system (FCC);
AK-306 or AK-630 artillery system, modified to accommodate Vikhr missiles.
Structurally, the complex "Vortex-K" includes:
Four Transport and Launch Containers (TLCs) with Vortex guided missiles placed on AK-306 or AK-630;
two launchers (PU);
AK-306 or AK-630 modified rocket-artillery unit (RAU);
a 24-hour automated fire control system;
sensors of current information on firing conditions;
power supplies;
electric installation kit.
A stabilized day and night sight-guiding device of the IMS is placed in the wheelhouse, which provides a wide range of angles of target search and tracking, while other elements of the IMS (computer system, automatic target tracking machine, IMS control panel with a set of weapons and video surveillance device) are placed in the wheelhouse of the boat.
The necessity to equip the boat with rocket and artillery weapons is justified by a number of criteria: probability of hitting and hitting standard targets, probability of performing a combat mission in a dual situation and by a generalized criterion that takes into account the ratio of efficiency to cost.
Numerical values of the criteria are determined based on the results of modeling the process of firing and dual combat of the target boat. Summary errors of ammunition hitting the target and characteristics of projectile striking action are taken as the initial data.
Typical targets are taken as typical ones:
above-water - small boat, armed with a 40mm automatic gun or, alternatively, a 76mm rapid fire gun;
air - a coastal or sea-based helicopter armed with guided missiles with a range of 6000 m with a Hellfire-type cumulated-shrapnel-phase ballistic missile;
Coastal - M1-A1 type tank and M2 type BMP.
From calculations it is visible essential growth of efficiency of a boat in 4,1 - 5,7 times.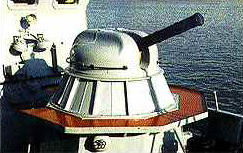 The chosen variant of placing of TPK with UR "Vortex" on AK-306 or AK-630 RAU provides high compactness of the complex, sufficient for application of UR a range of angles of guidance -4°+38° in a vertical plane and +180° in a horizontal one. At the same time, the technical characteristics of AK-306 after its completion do not deteriorate during the combat operation with AO-18L guns.
The high-precision complex by its technical level is ahead of similar developments in leading countries. Significantly higher cost of performing a combat mission with the "Hellfire" complex is mainly due to the lower maximum flight speed of the missile by 1.5 times compared to the "Vortex" missile. The complex is based on advanced technical solutions incorporated in the Vikhr guided weaponry, automated control system, as well as the AO-18L automatic gun as part of the AK-306 artillery unit, which are manufactured in series. Their high combat and operational characteristics have been confirmed during tests and military exercises.
An important feature of the complex is the autonomy and modularity of all elements, which allows its easy placement on any sea boat without significant modifications, in a short time and at low financial cost. The boats that are in operation and equipped with the AK-306 artillery unit can be retrofitted with the Vortex complex at much lower costs than when equipping such boats with newly developed weapon systems.
The missile system operates at a range of up to 10 km and hits typical targets with a probability of 80%. The peculiarity of the complex is that its missile can hit any part of the enemy ship: the wheelhouse, engine room or individual parts of the radar. The accuracy of firing from a distance of 10 km is a square, the size of 2.5X2.5 m.
Characteristics:
Developer
Instrument Engineering Design Bureau
Range of fire, km
0.5-10
Time of flight, s
- at maximum range
28
- at a range of 8000m
23
- at a range of 6000m
14
Average flight speed, m/s
600
Fighting unit
- type
shape-shifter
- weight, kg
8-12
- explosive weight, kg
4-5.5
- fuse type
contact and non-contact
- non-contact fuse range, m
2.5-3.0
Rocket
- number of steps
2
- length, mm
2750
- maximum housing diameter, mm
125-130
- wingspan, mm
240
- stabilizer range, mm
380
- starting weight, kg
40-45
- TPK length, mm
2870
- TPK diameter, mm
140
- rocket weight in the TIC, kg
59
- application temperature, deg oC
between -50 and +50
Testing:
According to data dated July 2018, the Soviet side sold the rockets and other components of the Hurricane system (it is worth understanding the Hurricane MLRS) to the Syrian side. Some of these rockets were handed over to the Hezbollah movement in the early 2000s.
In 2002, Alyazhedinov Vadim Rashitovich, Skirda Viktor Andreevich was awarded the S.I. Mosin Prize for his work on the topic: "The Hurricane multiple launch rocket system with increased accuracy and heap of fire.
Sergei Sivtsov - designer of control system elements. He made a significant contribution to the development of correcting switchgears for the angular stabilization systems of Smerch and Uragan Rocket Launcher Systems. He took direct part in working out of the given elements, tests and their introduction in a batch production.
Sources:
"Военный парад " N18, 1998г.
Other languages: