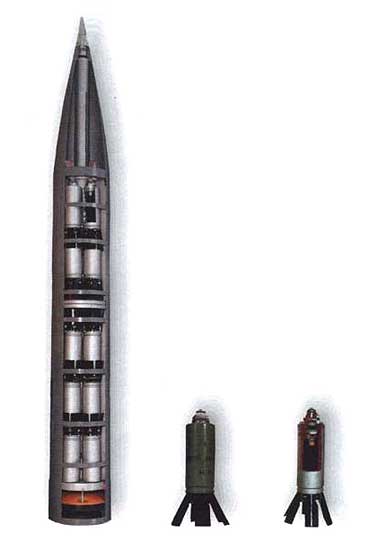 Unmanned rockets 9M27K (RSZO "Hurricane") are designed to destroy manpower and unarmed equipment in the places where they are concentrated.
For the first time, a cluster head unit was developed for the Hurricane MLRS projectile, equipped with shrapnel warheads.
It was adopted for service in 1975.
It showed high efficiency during the war in Afghanistan (1979-1989).
Main tactical and technical characteristics

| | |
| --- | --- |
| Caliber, mm | 220 |
| Weight, kg | 271,1 |
| Length, mm                                                                          | 5178,4 |
| Header type | cluster munitions |
| Head unit designation | 9N128К |
| Weight of the head part, kg | 90 |
| Length of the head end, mm | 1730 |
| Number of combat elements, pcs. | 30 |
| Weight of the combat unit, kg | 1,8 |
| Battle unit diameter, mm | 65 |
| Combat unit length, mm | 270 |
| Mass of the explosive in the combat unit, kg                     | 0,3 |
| Number of ready-made hit elements weighing 2 g of shrapnel fighting element, pcs. | 370–400 |
| Combatant fuse type           | instantaneous contact |
| Time to self-liquidation, s | 110 |
| Missile part marking | 9М27 |
| Range of flight of the projectile, m: |   |
|      minimum                                                                    | 10 000 |
|      maximum                                                                                  | 35 000 |
| Temperature range of combat application, ° C  | – 50 – +50 |
| Overall dimensions of the container with four NURS, mm                            | 5370×725×711 |
| The weight of the container with four NURS, kg | 1354 |
Sources:
Смотрите электронный облик издания: Реактивные снаряды системы залпового огня 9К57. Техническое описание и инструкция по эксплуатации. - М.: Воениздат, - 1981. - 56 с (с четырьмя вклейками).      https://yadi.sk/i/IECw5GieWppbH