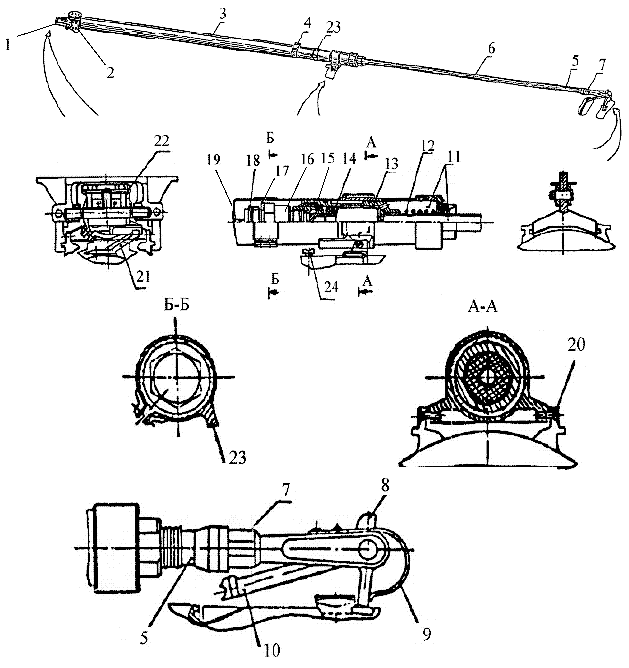 an earring;
focus;
cylinder;
clamp;
brake tube;
stem;
thrust;
thrust;
spring;
lever;
preliminary volume;
spring;
piston;
charge;
bushing;
pyropropatron;
washer;
electrical connector;
electric tourniquet;
shear bolt;
lever;
bracket;
clamp with stop;
lever;
The ejection device is designed to provide launch (ejection) of the missile from the TPC. The ejection device consists of two parts - fixed (cylinder 3) and movable (rod b). At the front end of the cylinder 3 is a bracket 22, which is installed: electrical connector for communication with the electrical system TPK, earring 1 and stop 2. With the earring and clamp 4 cylinder is attached to the container. With the help of the stop when moving the missile on the guides TPK turns the front lever in the third compartment, including the push-button switches of the electrical system of the missile. At the other end of the cylinder has a stop 23, designed to duplicate the activation of the engine with the lever 24. Inside the cylinder there is an electric tourniquet 19, which is connected to the pyropropatron 16 with the help of electrical connector 18.
Rod 6 is a sharpened pipe at one end of which is attached to the piston 13, and the other - the brake pipe 5 and lever 10. In the case of the piston 13 powder charge 14 and pyropropatron 16 are installed. Brake tube 5 softens the load on the TPK case at braking of the ejector. The rocket is connected to the ejection device by means of shear bolts 20 and lever 10, hinged to the rod 6. The ejection force is transmitted by the lever stop 10 to the end of the rocket compartment 4. To hold the rod in working position until the launch of the rocket in the area of free volume of the cylinder 3 spring 12, supporting a constant force on the rod is installed.