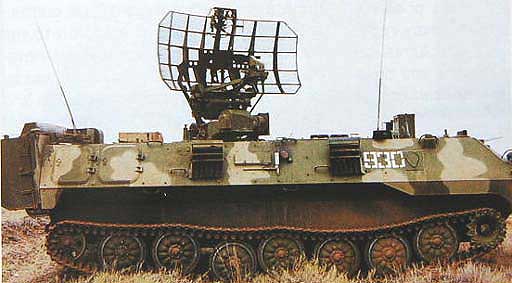 The mobile reconnaissance and control point of the "Ovod" SPRU-1 is in service of the commander of the anti-aircraft division and the head of the air defense motorized rifle (tank) regiment. It is used for air reconnaissance, target designation and data transfer to the PU-12M battery control points by means of ASPDU (Advanced Automatic Data Transfer System) equipment.
Tactical and technical characteristics
Speed up to 60 km/h;
Floating speed up to 5 km/h;
Travel reserve without refueling 450 km;
Reservations anti-shooting
The range of air targets detection is up to 35 km.
360 degree view of a circular target.
Means of communication:

radio station R-123M - 3 units
R-111 radio station
tank intercom TPU-4.

The crew: the commander of the control department, the radar operator and the mechanic - driver.
Ovod" PPRU is equipped with: special power supply system (SEP) generator with M-412 engine, KP-4 - kursoprokladchik (maps the route of the control point), radiation warning device DP-3B, field phone, artillery bossol for orientation and TZK - pipe anti-aircraft commander.