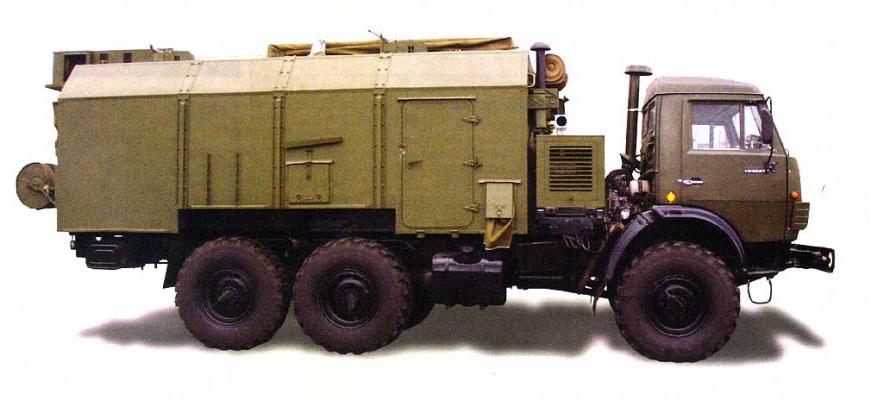 Unified Command and Staff Vehicle (UCSCM) MP32M1 is an integral part of 9С729М1 "Slepok-1" system and is designed for automated and non-automated control (as part of the complex) of combat operations of brigades, divisions and batteries, equipped with a multiple launch rocket system (MRLS) "Smerch", as well as to provide voice communication and data transfer to superior, interacting and subordinate controls, both in parking and on the move.
The number of MP32M1 MLRSs is determined by the number of units controlled by Slepok-1 MLRSs. MP32M1 is located on the basis of the vehicle with cross-country ability KAMAZ-43114 (TATRA T815-21NR36) with the van body. USSHM can be transported by air, sea and railway transport. Series production of MP32M1 is mastered by OJSC "Radio Plant" (Penza).
Main tasks to be solved by QSWM MP32M1:
Collection, processing, display and transmission of data on the status, condition and security of subordinate units to higher management levels;
Reception, formation and transfer of combat commands to prepare and deliver firing strikes to subordinate control units and reports on the performance of tasks to superior control units;
Closing the channels for exchange of telecode and voice information with superior, interacting and subordinate command posts;
Operative attachment of objects of destruction to batteries (combat vehicles);
Protection against unauthorized issuance of commands for firing strikes;
Solution of special operative-tactical, calculation and information tasks;
Collecting, processing and displaying on a digital map of the terrain information about the preparation and execution of tasks;
Documentation of input and output information;
Teaching and training of combat calculations.
USCHM equipment:
3 automated workstations (AWPs) for officials on the basis of a computer united into a local computer network (the AWP of the commander can be placed in the driver's cabin for work on the march);
One workstation of a telecoms operator;
VHF and KB radio stations, means of closing and switching voice and data channels;
Receiving equipment of GLONASS and NAVSTAR satellite navigation systems;
Power supply system consisting of two diesel 8-kW power plants operating in the parking lot and in motion, electric installation with capacity of 16 kW, driven by a marsh motor and voltage converter of the industrial network when working in the parking lot;
Life support system (means of atomic and chemical protection, filtration and ventilation unit, air conditioner, heater). 
Technical characteristics (KAMAZ-43114 chassis)
Weight, kg
14300
Overall dimensions, m:
            - length
            - width
            - height (with antennas raised)
8,17
2,55
7,71
Maximum lift overpassable
30°
Fuel reserve, km
800
Maximum speed, km/h
85
Conditions of use:
            - temperature range, °С
            - relative humidity at 35°C, %
            - altitude, m
between -40 and +5O
up to 98
up to 3000
Crew, man.
5
Number of ARMs
4
Number of channels for receiving and transmitting data
8
Data rate, kbps
0.1; 1.2; 2.4; 16
Number of radio channels
5
Range of communication through built-in means, km:
            - VHF radio stations, depending on the type of PCT and antenna type
            - CB radio stations
up to 60
up to 300
Positioning accuracy, m
20
Deployment/cooling time, min.
8/5
Continuous operating time, h
not less than 48