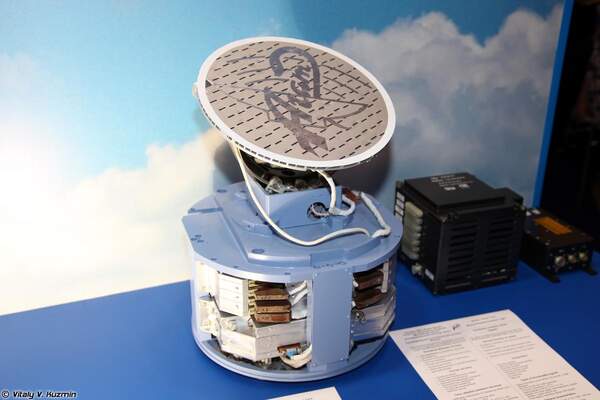 Active Homing Radar Head 9B-1103M-350 is designed for installation on air-to-air missiles designed to engage aircraft, helicopters (including hovercrafts), cruise and anti-location missiles.
The ARGSN 9B-1103M-350 is designed to be installed on long-range aircraft missiles such as Airborne-BD and KS-172, ground-to-air missiles.
Developer - "Moscow Research Institute Agat".
A new digital signal processor with a large amount of memory and the speed of at least 50х106 operations per second is installed in the CNS. Instead of the usual mechanical gyroscopes, fiber optic gyroscopes and mechanical gyroscopes with forced output to the operating mode were used in SOS 9B-1103M-350, which reduced the time of missile preparation for launch.
The ARGSN 9B-1103M-350 provides:
searching, capturing and escorting air targets,
receiving and decoding radiocorrection signals,
generating and transmitting signals over a digital communication line to control the missile.
Mode of operation :
Fully autonomous (active) mode by pre-targeting without radar support in flight (the "let-forget" mode),
radio-corrected inertial guidance mode,
reprogramming mode.
Composition:
a controlled coordinator with an antenna,
transmitting channel,
the receiving channel,
reprogrammable onboard computer system.
Targeting prior to launch shall be in the sector ±60° in the front hemisphere of the carrier aircraft.
SHARACTERISTICS
Range of target acquisition with EOS=5m2, km:       
  >40
Speed range of targets
  0,1 – 5М
Ready time, s:
          - not pre-turned on
          - upon initial activation
  5 – 8
  1
Working range
  X, Ku
Dimensions, mm:
          -length (without fairing)
          -diameter
  310
  350
Weight (without fairing), kg
  13