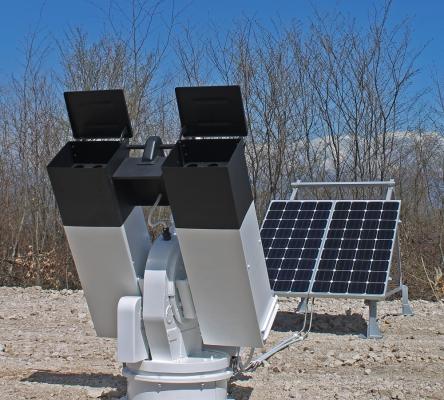 The first half of the 2010s of the XXI century includes the work of specialists of the DELTA Georgian State Military Scientific-Technical Center to recreate the work on means of suppression of hail in Georgia, which was concelled 25 years ago. The task is to protect 600,000 hectares of cultivated land from hail in the Kakheti region.
The project was initiated by the Georgian government in 2013. According to the plan, in April 2015 (preliminary) works should have been completed and active work on hail suppression means should have started.
According to the data of May 29, 2015, a mobile version of the launcher was developed and shots were fired (1,2,3,4,5).
Formation of hail requires a medium of strong, ascending air movement with the initial (forming) thunderstorm and lowered freezing altitudes. There are various methods to detect thunderstorm gusts using weather radars. Cranes tend to fall at higher speeds as they increase in size, although complicating factors such as thawing, air friction, wind and interaction with rain and other cooling towers can slow them down through the Earth's atmosphere. A hailstorm causes serious damage to man-made structures and, more often than not, to crops.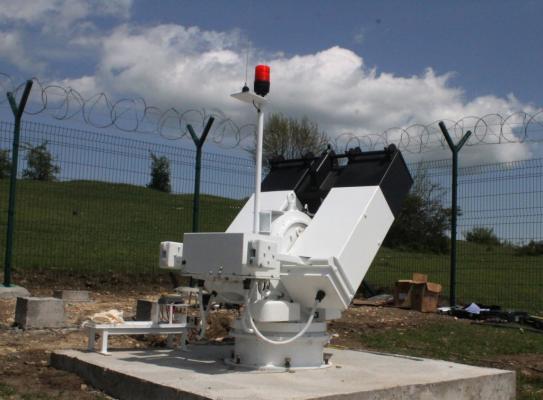 The purpose of hailstorm suppression work is to drastically reduce the size of hailstones or convert them into rain droplets by dispersion of a special reagent (silver iodide) in certain areas of the cloud before the formation of hailstones.
On the territory of Georgia, the anti-hail system operated from 1960 to 1990. It is known that similar works were recently carried out in several countries, including Bulgaria, Macedonia, Russia, China (1,2), Argentina, Armenia and several other countries.
Decades of work have been required to create and develop methods, models and algorithms to support hail suppression activities.
Today, Georgian specialists are faced with the task of creating new methods and models based on all previous work, which allows them to create automated complexes for the operation of which require less manpower (manpower), which are more accurate and faster working. All these characteristics reduce the overall cost of the complex and indicate much better efficiency.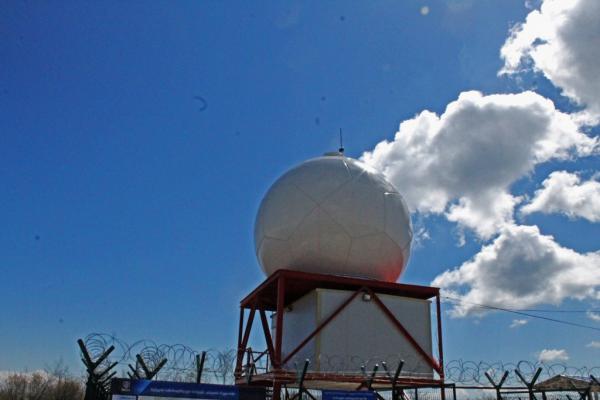 The anti-hail complex is a part of it:
meteorological radar station;
central control station;
automated fire control station;
position (site) for rocket launches;
devices (launchers) for rocket launches under the designations SD-56 and SD-26 (it is worth understanding the designations of devices (launchers);
antihail missile.
Meteorological radar is a dual polarized Doppler radar operating in the C-band, which generates all data for predicting thunderstorms. All this information, as well as lightning cloud databases, is used by software with specific algorithms to generate areas where silver iodide should be sprayed.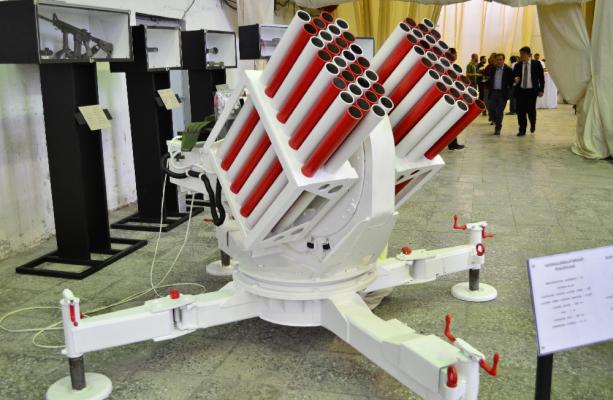 The central control station is the location of (operating) personnel, within which all information from meteorological radar and launch positions is collected and processed. There is also an automated fire control system at the station. The automated fire control system receives data, including data on hail areas, by means of special meteorological radar software. The automated fire control system determines the optimal starting position (platform), the number of required rockets and ensures that orders (commands) are sent to the appropriate launching devices.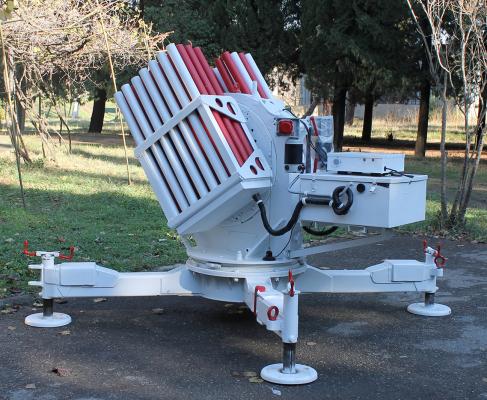 To protect the entire Kakheti area, 85 launch sites are required - one for every 10 km - which is the operational range of the anti-hail rocket. The launch pads are equipped with a rocket launcher, solar panel, grounding and security systems. The launcher (launcher) can be charged with 24 anti-hail rockets. It can be guided in the required direction and can be used to launch missiles.
The anti-missile is a 60 mm calibre unguided missile, which delivers 50-70 grams of silver iodide reagent and dissipates it at an altitude of 2.5-4.5 km for 30-35 seconds. The number of rockets needed per year is estimated at 5,000.
Analysis of the available photographs also shows a prototype for firing by 30 rockets.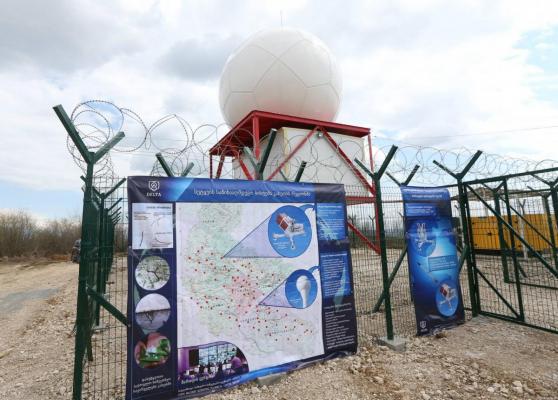 According to data from 2015, at that time part of the project was already implemented and an anti-hail network was installed on Mount Chora.
The state has allocated over 14 million GEL for the project.
Over 80 dangerous anti-hail points have been identified in Kakheti, where equipment has been installed to reduce the damage caused by hail to agricultural crops to 95 percent.
Characteristics:
 
APR-2
Weight, kg
575
Caliber, mm
350
Length,mm
3700
Range, m
1500-2000
Speed of travel, km/h
             - underwater search
             - maximum
43 knots (80 km/h)
62 knots (115 km/h)
Depth of stroke, m
15 - 600
Reset height from the medium, m
300-2000
Carrier speed when used, km/h
up to 800
Target Speed
up to 43 knots
Parameters of hydroacoustic homing system:
            - search sector by horizon, m
            - vertical search sector, m
            - active-mode response radius on submarines, m
            - active mode response radius on surface ships, m
            - response radius in passive mode, m
            - signal/noise resolution
            - direction finding accuracy
45°
90°
up to 1500
up to 1000
up to 500
0.4
up to 2°
Weight of combat unit, kg
80
Battle unit charge (in TNT equivalent), kg
100
Depth of safety removal, m
20
Probability of hitting the target with a target designation error of 500m RMS
0.70-0.85
Time to complete a combat mission, min.
1-2
Self-liquidation time, min.
15-20
Testing:
In 2015, the Moldovan side showed interest in purchasing the Georgian anti-hail system. Later, initial negotiations were held.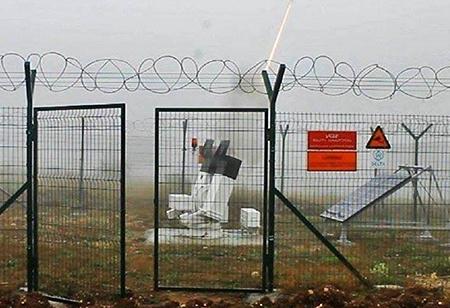 On September 21, 2016, a strong storm over the region of eastern Georgia, Kakhetia, put crops under serious threat. 150 anti-hail rockets were launched into the clouds above seven villages. The message came from the Georgian military scientific and technical center DELTA.
According to the DELTA Center, "On September 21 at 15:00, the system of the anti-hail network from DELTA Center specialists recorded a hail cloud coming from the north-east to Kakhetiya. By 4:15 pm the clouds covered the sky over the villages of Dedplistskaro, Sagarejo, Signaghi, Telavi, Ahmeta, Lagodekhi and Kvareli.
According to DELTA, there was an 80 percent risk that the clouds would cause heavy hail, resulting in tons of hail with 10-15 mm hailstones.
It rained as a result of the launch of the anti-hail rockets.
Kakheti Governor Irakli Kadagishvili said the bad weather September 21 caused serious problems in Kakheti.
"A strong wind destroyed an apartment building in the town of Gurjaani. Several houses have also been damaged in Lagodekhi. Trees were uprooted in some villages. All necessary actions were taken on time, and movement was limited to only a few minutes", Kadagishvili said.
He praised the rapid use of the anti-grape complex, which he believed saved all grape crops in every village in Kakheti.
As of the end of 2017, most of the electronic and mechanical parts of the system were produced by DELTA specialists. The complex consists of: Command and Control Center, located in Tbilisi, Central Meteorological Radar Station, located in the area of Signaghi and 83 objects with rocket launchers, located throughout the entire area of Kakhetia.
According to the officials, in 2017, more than 25 million GEL was saved in Georgia's main wine-making region Kakhetia due to the operation of the anti-hail complex.
Other languages: