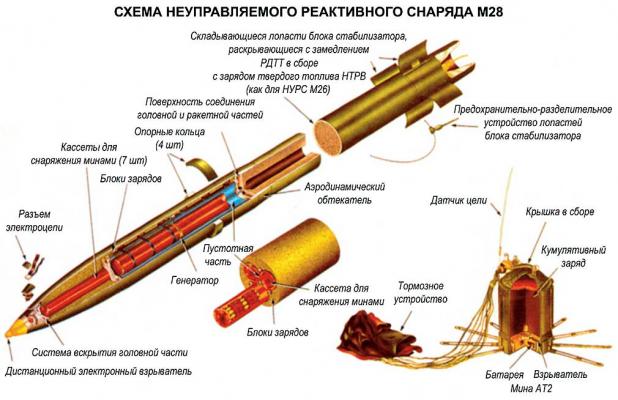 The M28 unguided rocket projectile with a firing range of 40 km is intended for operational remote setting of anti-tank minefields in front of enemy's military equipment units both at the edge of the attack and in the area where they are concentrated.
The M28 projectile design includes a cluster head unit equipped with AT2 anti-tank mines. The head unit was developed by specialists of the West German company Dynamit Nobel in November 1980. RTG was selected as the main subcontractor, and a contract was signed with DNAG to modify the AT2 DM1233 mine. Subsequently, more efficient and cheaper AT2-84 mines were developed and used since 1985. The first deliveries to the German and British Armed Forces date back to the early 90s.
Seven containers of four mines each are housed in the thin-walled MS casing. At an altitude of about 1.2 km, the containers are first scattered and then mines are ejected and lowered by parachutes. Just before landing, the parachute is separated and the landmine, which has fallen to the ground, is placed in a combat position using spring-loaded legs - a cumulative funnel upwards. The pin sensor is pulled out of the housing. Self-liquidation time of the mine is set before firing and can be from several hours to several days. The salvo of one PU creates a mine fence of 336 mines on the area of about 1000x400 m. The cumulative charge of the mine is capable of penetrating armour up to 140 mm thick.
TPK with M28 projectiles is equipped with an additional device for opening blades.
Tactical and technical characteristics
Caliber, mm
236 (236,6)
Length, mm
3935–3937
Missile range, km
40
Weight, kg:
            - shell
            - header
            - rocket engine
257,5 (258,5;259,45)
107
around 148
Header type
cassette
Number of mines, pcs.
28
The diameter of the cassette, mm
105,7
The length of the tape, mm
548
Cassette weight, kg
10,8
Mine diameter, mm
103,5
Height of the mine, mm:
            - out of range
            - up in the air
128,2
165
Armor penetration by cumulative jet, mm
140 (160)
The length of the rocket engine, mm
1977
The size of a minefield set in two volleys, m
2000х115