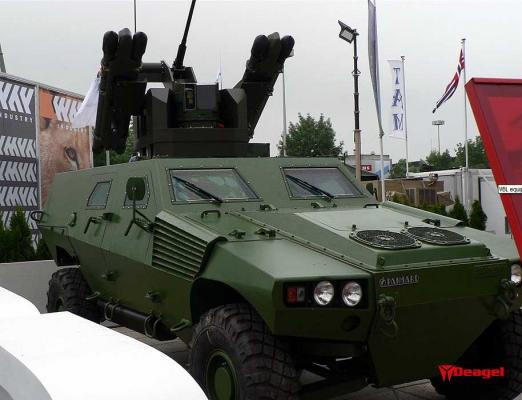 The MPCV was developed on a proactive basis, with the aim of creating a vehicle with high running characteristics and equipped with combat systems for various operations (in particular, air and anti-tank systems). The vehicle is equipped with a turret, developed by MBDA together with Rheinmetall Defence Electronics (RDE). The tower (see photo ) is equipped with a day/night optical-electronic sighting and surveillance system with an integrated rangefinder, which allows you to detect and track the target at a distance of up to 10 km.
The MPCV is equipped with anti-tank guided missiles (ATGW) or ground-to-air missiles (SAM), which are installed in pairs on each side of the sighting and surveillance system. The turret rotates through 360°, the vertical aiming angle is -10° to +60°. A 12.7 mm remote-controlled machine gun is fitted as standard, and a communication system can be installed at customer's request. The MPCV crew consists of three persons: commander, gunner and driver.
The MPCV is equipped with four MILAN-ER ATGW missiles or, in the future, European Modular Munitions/Missiles de Combat Tactique (EMM/MCT) for anti-tank operations. The MPCV is equipped with four Mistral 2 missiles for air defense applications (other air-to-air missiles can be installed on request). Ammunition (4 missiles) is inside the vehicle, manual recharging.
The MPCV can operate independently or as part of a network, with target information coming from the command post. The open structure of the MPCV will allow improvements to be made as technology advances, while subsystem compatibility will reduce equipment life cycle costs.
The first MPCV system is made on the chassis of a light armored vehicle VBR 4x4 produced by "Panhard General Defense", but can be placed on other chassis.