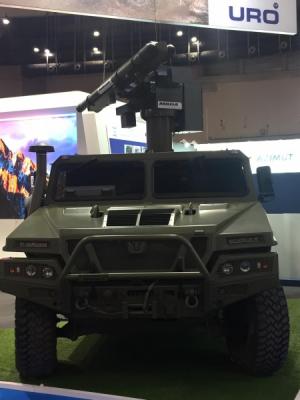 The ATLAS-RC system is a remote-controlled unit mounted on various machines using Mistral-2 anti-aircraft guided missiles.
According to the Spanish Ministry of Defence, ATLAS-RC is equipped with two Mistral missiles and a thermal sight. ATLAS-RC can be integrated into a variety of mobile armoured and non-armoured combat vehicles, such as the URO VAMTAC ST5, in the Spanish army.
According to the MBDA's press office, the ATLAS-RC offers greater protection to the crew than the standard ATLAS system, as it can be operated from the vehicle's cockpit or remotely via a mobile station.
The system is equipped with a mechanized 360° swivel turret for optimum operational capability at reduced costs.
The ATLAS-RC features include the possibility of using an autonomous mode of guidance missile "fire-and-forget", a high probability of injury when working on rotary-wing aircraft, aircraft and UAV, as well as high reliability.
First presented at HOMSEC 2017 (Madrid, 14-16 March 2017).