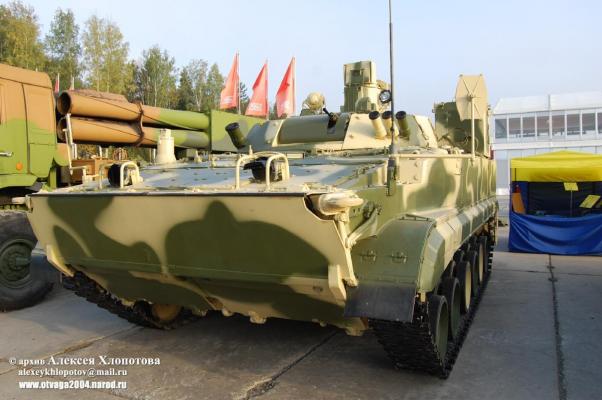 The 9P157-4 battery management machine of the 9K123 complex (see photo 1, photo 2, photo 3, photo 4) is designed for:
planning combat operations and battery management of the anti-tank complex "Chrysanthemum-S";
reconnaissance day and night in all weather conditions by airborne vehicles;
calculation of parameters of detected targets;
display of cartographic information on electronic tablets;
transmission of the received target data to other units and target distribution among combat vehicles;
high-precision orientation on the ground by means of on-board navigation aids;
providing courses for battery vehicles on an electronic map of the terrain.
  9P157-4 machine detection devices (see photo 1, photo 2):
Navigation tools :
Trona-1C navigation complex.
The 9P157-4 was first demonstrated in September 2011 at the VIII International Exhibition of Arms in Nizhny Tagil "Russian Expo Arms-2011".
Main tactical and technical data of battery control machine 9P157-4
Tank" target detection range, m:
            - by radar
            - via TITVSD
6000
6500
Tank Target detection range by means of a thermal imaging channel, m
3500
Error in determining distance, m
10
Angles of view, deg:
            - azimuth to azimuth
            - around the corner
360
between -5 and +45
Trona-1C navigation complex
Error of location in autonomous mode, %
not more than 0.7 of
7-hour driving range
Positioning error via satellite navigation system, m
not more than 20
Range of radio communication, km:
            - on VHF band
            - in EF range
not less than 20
not less than 30