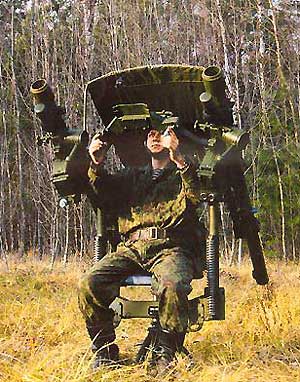 The Jigit launcher (see photo) is designed to place, point and single or multiple launch two needle-type missiles with a single anti-aircraft gunner, can operate at any time of the day, use external pre-targeting, identify targets by their "own" type.
The Jigit launcher has no analogues in terms of its ability to conduct salvo launches of man-portable air defense missiles. During a salvo launch, the probability of hitting a target increases by an average of 1.5 times. Calculation of 1 person
Structural execution of elements of the equipment complete set for placing OPU "Gigit" can be made taking into account features of concrete carriers. The set includes: a support unit, control and maintenance equipment and training aids. The landing gear can be additionally equipped:
equipment that provides prior designation from a higher level of management
day/night telescopic sight
radio requestor identification system Mk-XA, Mk-XII
equipment that allows you to install ROVs in the car body.
Tactical and technical characteristics
Shooting sector, deg:
            - azimuth
            - around the corner
360
between -15 and 60
Dimensions with missiles installed, mm :
            - at war
            - stowed down
2180х1546х1304
2200х1304х760
Mass of propulsion without missiles, kg
128
Time of deployment in combat position, min.
3
Missile recharging time, min.
2